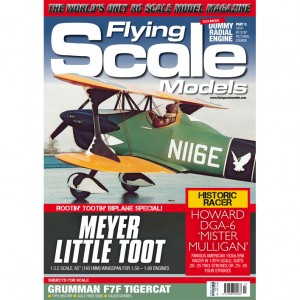 Flying Scale Models – Scale Aircraft in the Air
Launched in 1997, Flying Scale Models magazine is for builders and fliers of historic scale replicas of full size aircraft. Published monthly, there are regular, free full size scale model plans for aircraft from all eras of manned flight, together with a wide range of material on every aspect of scale model research, building and flying. There are also reports on commercial developments within the hobby with expert tests of all the latest products.
The magazine's authoritative editorial reference and its technique based instructional material from a wide base of regular expert contributors; make Flying Scale Models a highly collectible reference journal.
Flying Scale Models magazine covers the whole field including;
Radio Control
Free Flight
Indoor
Control Line
Technical Histories
Extensive Colour Scheme References
Fine Scale drawings
Regular FREE full size scale model plans
Take 24 issues and receive Three FREE GIFTS worth over £25
Modelcraft Adjustable Piercing Saw Frame
• Accepts blades between 60-160mm
• Accommodates broken blades
• Accommodates piercing saw blades x36
Modelcraft Piercing Saw Blades x 36
Modelcraft Soft Grip Craft Knife #2 Set (125mm)
This 7 piece set includes: Quality #2 handle with inbuilt soft comfort grip, Magnetic end for picking
up blades or other metal components, 6 various useful blades, Storage case, For cutting out shapes in
paper, card, foil and decals, Ideal for scrap booking, paper craft general craft & hobby tasks.

All new subscriptions will start with the next issue – if you want to start with the current issue let us know by emailing: enquiries@doolittlemedia.com
IMPORTANT – Please select your correct area either UK, Euro or World from the below pull down menu.