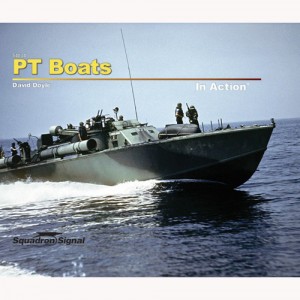 Also available in Softback (14034)
American Patrol Torpedo – or PT boat – crews served valiantly in every theatre during World War II. From the Aleutians to the Mediterranean these men harassed enemy shipping, launched attacks against much more formidable warships, rescued downed air crews, and spirited General Douglas MacArthur to safety from Corregidor Island in March of 1942. PT boats also laid mines and smokescreens, coordinated sea-air rescue actions, and conducted intelligence and raiding operations. This 80-page volume chronicles the evolution, use, and eventual destruction of the U.S. PT boat fleet through photographs, many of them in color. Coverage includes ELCO, Higgins, and Huckins boats.
Illustrated with 210 photographs, colour profiles, and detailed line drawings; 80 pages.