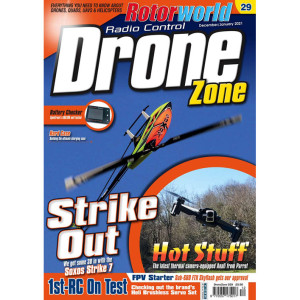 14 FTX Skyflash
The Skyflash drone from FTX and is an entry-level offering
that comes complete with VR-style goggles and obstacles/
gates. Targeting the buyer looking for an FPV flying
experience without spending hundreds of pounds, we
take a look at what the package has to offer.
20 1st-RC Heli Brushless Servo Set
When Heli-Professional offered us their high performance
1st-RC Heli Brushless Servo Set for review, we jumped at
the chance to try them out and what better airframe to
install them in but the impressive Soxos Strike 7.
26 Spektrum XBC100
XBC100 is Spektrum's Smart Battery Checker and
Servo Driver which is a great tool for an RC enthusiast
for keeping an eye on the status of your LiPo, as well
as testing a servo and centralising the output before
installation in a chassis build.
30 Mobile Charging Set-Up
Mike Szabo comes up with his own solution for a mobile
charging case using some readily available components
for a cool and custom design.
36 Soxos Strike 7 Part Two
After our initial build of the Soxos Strike 7 in issue 28,
part two focusses on the installation of the electronics, setup
and the most important part of any review, the flight
performance using components from 1st-RC, Scorpion,
Mikado and OptiPower.
42 Henseleit Helicopters TDSF Flight Test
In this update we bring you Jon Tanner's complete flight
experience of the stunning TDSF model and starts after
the pre-flight check.
44 Parrot Anafi Thermal
The Thermal is the third model in the popular Anafi
line-up and as the name suggests incorporates a thermal
camera along with other accessories that gives you the
option for commercial applications, or to take your drone
flying slightly more seriously if you wish.
52 IRCHA Jamboree
Tim DiPeri heads to the 30th annual International Radio
Controlled Helicopter Association at the International
Aeromodeling Center in Muncie, Indiana and reports
back on all the action, complimented by some stunning
photography as usual.