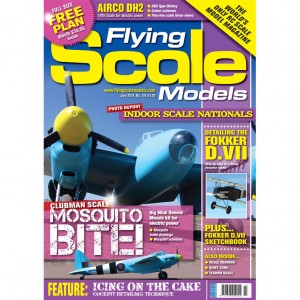 July 2014 Â No.176
CONTACT
Just for openers
FOKKER D.VII PART 3
Concluding the construction article for the 1/6 scale model
designed by Peter Rake and built and described by Pat Lynch
FOKKER SKETCHBOOK
Details gathered during the restoration of the
RAF Museum's D..VII
INDOOR SCALE NATionals 2014
Alex Whittaker captures all the action on camera
MOSQUITO Bite!
Ted Cooke's all-electric Photo Reconnaissance DH Mosquito
built from the Mick Reeves Models kit.
MOSQUITO SCALE DRAWING
1:60 fine-line three views
MOSQUITO FLYING COLOURS
Warpaint for the 'Mossie'
SCALE SOARING
Chris Williams reports on the successof his new Kaiser K11
motorglider and tests a new Variometer
FULL-SIZE FREE PLAN FEATURE
Airco DH2
A 1/9th scale 37.5" (953mm) span sport-scale replica for
electric power and rudder, elevator and throttle controls
DH2 TYPE HISTORY
A quaint, but effective rebuff for the German
'Fokker Scourge' of the 1914/15 WW1 period, although its
success was short-lived
DH2 flying COLOURS
Colour schemes for the Airco DH2
DH2 SCALE DRAWING
1:50 fine-line three views icing on the cake
A guide to the tricky task of cockpit detailing. PART 1
QUIET ZONE
Peter Rake describes Pat Lynch's techniques use in
replicating the dummy radial engine of his Polikarpov PO-2
that will be a forthcomming Peter Rake plan in FSM.