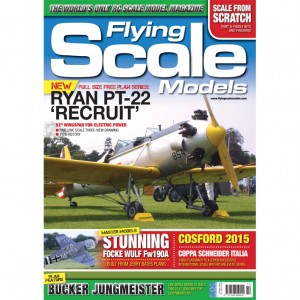 Oct 2015 No.191
4 CONTACT
Just for starters
6 COPPA SCHNEIDER italia
The editor recalls the ambitious and highly successful Schneider Trophy model series run at lake Varese from 1979
until the mid-1980s.
10 master models: Focke wulf 190A
Keith Durkin's superbly presented Fw 190A bears the signature of its Luftwaffe pilot. Alex Whitakker reports.
18 NORTH BERKS SCALE DAY
Club level scale drew models of all aviation era for this year's FSM Trophy event
22 MICROACES CURTISS HAWK P-6E
Something simple to keep in the back of the car for a quick bit of flying, Reviewed by Bruce Corfe
FULL SIZE FREE PLAN FEATURE
26 RYAN PT-22: PART 1
A three-part full size free plan construction feature for an electric powered, 52" (1320mm) span sport scale model,
designed by Peter Rake
30 RYAN PT-22 SUBJECTS FOR SCALE
Making the seamless transition from civilian sportster to military trainer, the PT-22 'Recruit' taught many thousands of US aviators the basics during the WW2 period.
34 RYAN PT-22 SCALE DRAWING
1:40 fine-line three-views
36 BUCKER JUNGMEISTER
John Watters' 1:11 scale 23.5" wingspan model began life on the brawing board as a free flight model, but by building-board stage, it emerged for lightweight R/C with aileron and elevator controls
42 LMA COSFORD 2015
Alex Whittaker visits a thoughtfully upgraded and even more vital LMA Cosford
50 scale from scratch: PART 8
Fiddly bits & Finishing
56 TECHNO SCALE
Mike Evatt scours cyberspace for more TechnoScale Topics…
58 SCALE SOARING
Back in the early days of full size gliding, biplane gliders biplane gliders had a brief following. The Zurivgel was one of them
62 QUIET ZONE
Peter Rake conducts his own version of weight-watchers as he provides a guide to workable all-up weights for indoor models – and how achieve it!