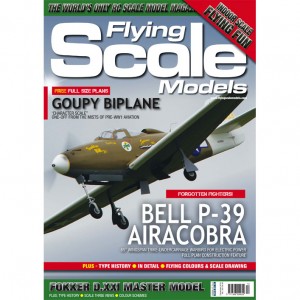 4 CONTACT
Just for starters
6 master models:
FOKKER D.XXI
A rare radial engine early WW2 fighter from the
Jerry Bates Plans stable
10 FOKKER D.XXI TYPE HISTORY
Simple, rugged and practical, this neat little fighter found its
greatest success with the air arm of Finland, against the
might of Soviet Russia.
14 D.XXI FLYING COLOURS
The Fokker D.XXI in warpaint
16 D.XXI SCALE DRAWING
1: 50 scale three view
18 Bell P-39 AirCOBRA
The Airacobra is a WW2 fighter largely ignored by Warbirders,
so why no change all that with Dick Edmonds; 65" wingspan
sport-scale design for electric power
28 P-39 IN DETAIL
Close-up detail photo study
34 P-39 SCALE DRAWING
1:50 fine-line three-view drawings
36 P-39 FLYING COLOURS
Warpaint in the air arms that flew the Airacobra
40 P-39 TYPE HISTORY
One of only two viable and available US Army Air Corps fighters
when USA entered WW2, the P-39 did sterling work at a time
when needed
48 GOUPY BiplanE
An electric powered model of an unusual pre-WW1 aircraft for
three-function control. Designed by Peter Rake, with the prototype
model built and test flown by Phil Burress
54 the LOZENGE pattern conundrum
The late Ron Moulton extensively researched these unusual
German WW1 camouflage schemes
58 SCALE SOARING
Enjoy the last of the 2016 summer wine, scale sailplane style,
with Chris Williams
62 QUIET ZONE
Peter Rake offers full size plans for a Deprom sheet profile scale
indoor Grumman F4F Wildcat.