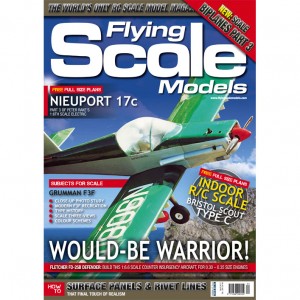 April 2017 No.209
Just for starters
6 NIEUPORT 17 PART 3
Peter Rake concludes the construction of his 1/6th scale, electric
powered model of the famous French scout.
10 FLETCHER FD-25B DEFENDER
Peter Miller's 54.5" (1384mm) wingspan model of a long forgotten
close support Counter Insurgency ground attack aircraft that
punched well above its weight
18 FLETCHER DEFENDER TYPE HISTORY
A Warbird that never made it for it's intended purpose, but
eventually went to war on weeds as a Crop Duster!
22 BIPLANES my way: PART 3
MARTIN FARDELL continues his practical philosophy for
designing and scratch building a competition standard scale
biplane, this month with his approach to the basic airframe
28 TECHNO SCALE
Scale web site worth a click-on
32 QUIET ZONE
Peter Rake offers full size plans for an indoor scale Bristol Scout
Type C, but this time it's a fully three-dimensional all-wood build,
rather than a profile foamie
40 subjects for scale
GRUMMAN F3F
The Grumman F3F series was one of a clutch of late 1930s
aircraft that represented the pinnacle of single-seat biplane
fighter development immediately prior to the eclipse of the layout
in favour of the monoplane.
46 GRUMMAN SCALE DRAWING
1:40 detail three-views
48 GRUMMAN IN DETAIL
Close-up detail study of the Texas Aircraft Factrory replica
52 GRUMMAN RESURECTION
How Terb Tischler's Texas Aircraft Factory 'remanufactured' four
Grumman F3F fighters
54 GRUMMAN F3F FLYING COLOURS
Colour schemes applied by US Navy and US Marine squadrons
56 SCALE SOARING
Digging deap for a scale R/C sailplane, produced this WW2
troop-carrier trainer.
60 surface panels and rivet lines
Some techniques for adding that final touch of realism to a scale model.