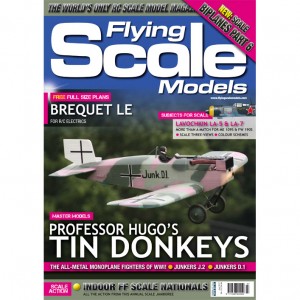 JULY 2017 NO.212
4 CONTACT
Just for starters
6 BREGUET LE
Full size free plan feature
An electric powered model of an unusual French monoplane,
designed by Peter Rake
12 carve cockpit CANOPY PLUG
Chris White carves one the traditional qay – in wood
14 professor hugo's TIN DONKEYS
Back in the WW1 period, Prof.Junkers' all-metal airframe
fighters were nothing short of revolutionary in an era of wire,
wood and fabric for aircraft construction
20 junkers J.2
A 72" span model of this radical and futuristic 1916 fighter
monoplane for .50 to .60 cu. in. four-strokes designed
by GARY SUNDERLAND
26 J.2 SCALE DRAWING
1:40 scale three-views
28 Junkers D.1 MASTER MODEL
Richard Crapp's quarter scale model, build from the
Balsa USA kit
34 D.1 SCALE DRAWING
1:40 scale three view drawing
36 JUNKERS D.1 TYPE HISTORY
Like the Fokker D.VII monoplane the Junkers D.1 arrived too
late during WW1, but its designer can truly be credited for the
advanced thinking that went into its design
40 INDOOR F/F SCALE NATIONALS
Tom Daly enjoys an action-packed day at this annual indoor scale jamboree
46 SUBJECT FOR SCALE
LAVOCHKIN LA-5 & LA-7
One of the Soviet Union's lesser-known fighters of WW2, this
handy little machine proved highly effective
52 LAVOCHKIN FLYING COLOURS
Warpaint schemes
56 LAVOCHKIN SCALE DRAWING
1:60 detailed finew-line three-views
58 BIPLANES MY WAY PART 6
Off to the flying field – at last…
62 QUIET ZONE
Peter Rake takes a look at up-to-date alternatives to the
motors originally recommended for some of the much earlier
model designs, still valid, but that would benefit from a modern
power system upgrade.