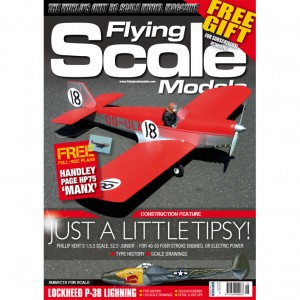 4 CONTACT
Just for openners
8 KENT ON CONSTRUCTION
Part 11: Covering and finishing
full size plan feature
14 handley page HP75 'Manx'
1:9.5 scale, 49.5" wingspan, for twin electric power
18 H.P. MANX TYPE HISTORY &
SCALE DRAWING
Story of this one-off tailless experimental aircraft, the knowlege
gained from which, made a contribution to the Handley Page
Victor V-Bomber
22 TIPSY junior
A 52.5" (1333mm) wing span 1:5.3 scale model of the Belgian
light aircraft for electric or 40/50 four stroke power designed by
PHILLIP S. KENT
30 TIPSY junior TYPE HISTORY
If an aircraft looks right, It'll fly right – they say. It could also be
fairly said that it will be well-remembered. Only two Tipsy
Juniors were ever built, yet its simple, attractive lines make it a
perenial modellers' favourite
34 TIPSY Junior SCALE DRAWING
1:30 scale three-view
38 SUBJECTs FOR SCALE
lockheed p-38 lightning
Unquestionaly the most distinctive fighter aircraft shape of the
WW2 era, the Lighting is a truly challenging subject for scale
modelling
46 P-38 SCALE DRAWING
1:60 detail multi-view drawings
50 lightning IN DETAIL
Close up study of a P-38J
56 P-38 FLYING COLOURS
Warpaint worn by Lightning operation in both the skies over
Europe and over the Pacific.
60 SCALE SOARING
The 2019 scale sailplane flying season gets underway with an
early March stroke of slope soaring weather luck!