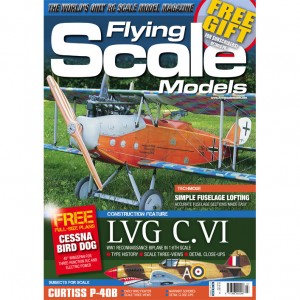 4 CONTACT
Just for openners
Full size plan feature
8 CESSNA BIRD DOG
40" Wingspan for three-funttion R/C and electric power
12 BIRD DOG TYPE HISTORY
Developed from the Earlier Cessna 170, the shapely little Bird
Dog was worked hard in its indended purpose and evenually
serviced with a total of 23 military air services worldwide
16 BIRD DOG SCALE DRAWING
1:50 scale detailed three views
18 BIRD DOG IN DETAIL
Close-ups of the example on display at the newly refurbished
Museum of Army Flying, will be of help to anyone wishing to
model this delightful little aircraft
26 LVG C.VI
Frank Mizer's 1:6th scale 85.3″ (2166mm) replica
34 LVG SCALE DRAWING
1:60 muilti-view super-detailed drawings of the German WW1
recce aircraft
36 LVG TYPE HISTORY
Knowing what the enemy is up to is the prelude to any military
action, Aerial reconnaisance and spotting were vital functions for
both sides in WW1.This one was Germany's last during that conflict
40 LVG IN DETAIL
Close-ups of the RAF Museum's ultra rarity, not actually on
display at the moment and awaiting restoration treatment
46 AIRFRAME SECTION LOFTING
A proven method of creating accurate fuselage former shapes
and for aerofoil sections too
50 SUBJECT FOR SCALE
CURTISS P-40 A. B & C
Never one of the 'star' fighter aircraft of WW2, the P-40 series
nevertheless served Allied air forces long and well, across all
theatres of combat. The early marques were, arguably, the prettiest
58 P-40B SCALE DRAWING
1:50 scale three-views
60 P-40A, B & C FLYING COLOURS
Warhawk/Tomahawk warpaint
62 P-40 IN DETAIL
Recovered from its wreck-site in Hawaii back in 1985, this
brilliantly restored example was operated byThe Fighter
Collection, then went back to U.S.A.