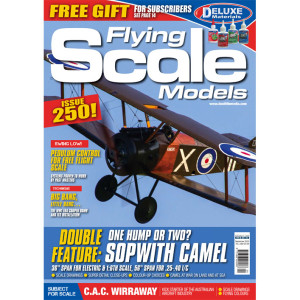 4 CONTACT
250 not out!
6 SPORT SCALE MASTERCLASS PART 14
Got the legs for it! Gordon Whitehead deals with
undercarriages and the dreaded groundloop.
16 FULL SIZE PLAN FEATURE
SOPWITH CAMEL
A 36″ span, electric-powered scale model, superbly built and test
flown by Gerald O'Docharty from a design by Peter Rake
22 SOPWITH CAMEL TYPE HISTORY
Arguably the best known of all British WW1 fighter aircraft, the
Camel certainly had a reputation all its own
30 A BIGGER CAMEL
An easy-to-build 1/6th scale 56″ (1422mm) wingspan 'Camel' for
three or four channel radio and '25' to '40' sized engines, with a
rudder-only stability heritage, designed by BOB WRIGHT
34 sopwith camel scale drawing
1:40 scale detailed three views
36 camel fighter colours
Three pages of colour scheme choices for Sopwith Camels in
RFC, RNAS and US Air Service
40 CAMEL IN DETAIL
A close-up look at the pristine restored example on permanent
display at the R.A.F. Museum, Hendon
44 The WW1-era cooper bomb
As the range of tasks for aircraft expanded during WW1, the
ground attack role became ever more important, for machine
gun straffing and bombing
50 pendulum swing,
like a pendulum do…
Stability control for free flight scale. Systems proven to work
by past masters.
54 SUBJECT FOR SCALE
C.A.C. WIRRAWAY
FROM LITTLE ACORNS…the aircraft that kick-started the
Australian aviation industry
60 WIRRAWAY FLYING COLOURS
Combat colour-up for a workhorse
56 WIRRAWAY SCALE DRAWING
1:40 fine detail three views.