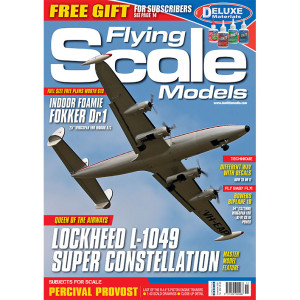 6 MASTER MODELS: LOCKHEED
SUPER CONSTELLATION
Martin Hardy retraces the build of his 88"
wingspan electric powered superscale
model, including purpose-built scale
retracting undercarriage system
16 SURVIVING FREE FLIGHT SCALE
Part 2: Andrew Hewitt's guide to selecting
a suitable subject for your fi rst free fl ight
scale model
22 SUBJECTS FOR SCALE
PERCIVAL P56 PROVOST
The R.A.F.'s last single piston engine trainer,
before the Service went over to all-jet
fl ying training
29 PROVOST IN DETAIL
Composite study of The Shuttleworth
Collection's G-KAPW (ex-XF603) and
G-BKFW (ex-XF597), both ex-RAF examples,
fully representative of the type
34 PROVOST SCALE DRAWING
1:40 scale three-view
36 BESPOKE PROPELLERS FOR
LARGE SCALE MODELS
PART 1: Ian Turney-White takes you through
all the steps of designing and carving
really big wooden propellers, tailored to
the needs of really big scale models
42 FULL SIZE FREE PLAN FEATURE
INDOOR FOAMIE FGOKKER DR.1
The Indoor fl ying season is here so, for
indoor club fl ying evenings, why not try
Mark Denham's. 25" Wingspan WW1
Triplane?
48 NOT ALL FOKKER DR.1S
WERE RED!
Here are some options for your indoor
foamie fl yer
50 A DIFFERENT WAY WITH DECALS
Frank W. Beaty offers his own contribution
to the diverse technique of creating
bespoke decals for scale models.
54 BOWERS FLY BABY 1B BIPLANE
A 54" (1372mm) wingspan sport-scale R/C
version of the Pete Bowers home-build
biplane – a delightful and practical model
for .61-.91 cu.in engines, designed by Mike
Conrad
60 FLY BABY BIPLANE
TYPE HISTORY
Take one long-standing and expert
aeromodeller with achievements in the
full size homebuild aircraft movement and
what to you get?
…. well here it is!
64 FLY BABY BIPLANE
THEME & VARIATIONS
As a home build type from plans, those
who have caught the full size homebuild
bug have, in some cases, taken their own
particular 'liberties' with the original shape.
Here are some of them.