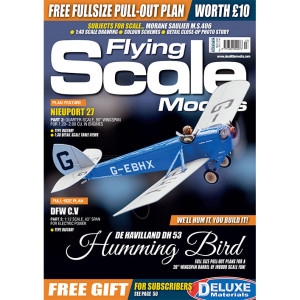 6 FULL SIZE FREE PLAN FEATURE
DEUTSCHE FLUZZEUWURKED
DFW C.V
PART 2: Concluding the build of this 1/12th scale
electric powered model of the German WW1
reconnaissance two seater, designed by Peter Rake
and built by Charles Sherman
12 DFW C.5 TYPE HISTORY
A notable German aerial workhorse of the Great War
period, that could more than hold its own against
the best of the Allied air arms' fighting scouts
16 FULL SIZE PULLOUT PLANS
DE HAVILLAND DH 53 HUMMING BIRD
PART 1: A 1:18 scale 20" (509mm) wingspan
indoor R/C scale model for electric power and ultra
lightweight systems, designed and built by MATS
JOHANSON, with photos by DAVID BROHEDE
24 NIEUPORT 27
PART 2: Gary Sunderland concludes the
construction of his 1/4-scale Nieuport 27, neat and
elegant 80.5" span WW1 fighter for 2.00 cu.in four
stroke engines
30 NIEUPORT 27 TYPE HISTORY
Arguably the most neat and elegant of the long
series of Nieuport single seat, French designed
sesquiplane scout/fighters of WW1
34 NIEUPORT 27 SCALE DRAWINGS
1:30 scale three-views, including the preceding
Nieuport 24 and N.24bis
36 SUBJECTS FOR SCALE
MORANE-SAULNIER M.S.406
Defender of France during the early 'Phoney Wars'
days of 1939-1940, this pugnacious little fighter
was the most numerous among the Armee de
l'Air Groupes de Chasse fighting the Luftwaffe
across France's eastern borders. It is a worthy
subject for scale fans looking for something
'diff erent'
42 M.S. 406 SCALE DRAWING
1:40 scale three-views, including the Swiss
D-3801 license-built derivative
46 M.S. 406 IN DETAIL
Close-up photo study for scale modellers
(Actually a Swiss D-3801, since no M.S. 406
has survived!)
48 MORANE-SALNIER M.S. 406
FLYING COLOURS
Warpaint carried in service with French, Polish,
Finnish, Swiss and Lithuanian Air Forces, plus
Luftwaffe.