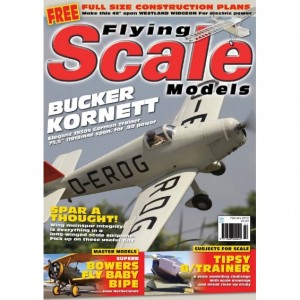 Issue 147
CONTACT
Scale model news
BERT VAN EIJK'S STUNNING BOWERS FLY BABY BIPLANE
In scale matters, things aren't always what they seem!
BUCKER BU 182 KORNETT WITH TYPE HISTORY
Try this manageable-size 75.5" ( 1918mm ) span elegant German 1930s trainer for .90 – 1.20 size four strokes
BUCKER KORNETT SCALE DRAWING
1:40 scale three-view
WESTLAND WIDGEON IIIA TYPE HISTORY
Ever popular with scale modellers, the Widgeon might have been one of the 'mainstream' club/private aircraft of its era, had not the lure of military contracts intervened
FULL-SIZE FREE PLAN FEATURE WESTLAND WIDGEON IIIA
An electric powered scale model designed by Peter Rake, built and described by Marion Crowder
WESTLAND WIDGEON SCALE DRAWING
1:50 fine-line three-views
A WIDGEON REBORN
Restoration work-in-progress
TIPSY B SUBJECTS FOR SCALE WITH SCALE DRAWING
As with cars of the period, light aircraft shapes of the 1930 displayed a fine variety of individuality and elegance that make for excellent scale modelling subjects. Try this one for a change!
TIPSY B IN DETAIL
Close-up detail for model builders
ALEX GOES TO SLEAP
Whittaker takes his camera to the NW Warbirds meeting in Shropshire
SCALE SOARING
Wing mainspar integrity is everything in a long-winged scale sailplane. Here are some useful tips
THE QUIET ZONE
Strictly for electric power enthusiasts
TECHNO SCALE
Mike Evatt takes to hyperspace for more TechnoScale Topics