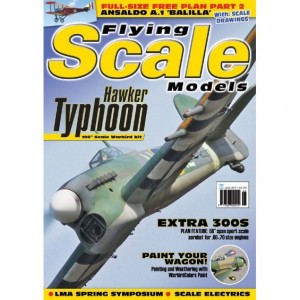 Issue 139
Contact
Scale Model news
LMA SPRING SYMPOSIUM
Alex Whittaker is impressed by the latest avatar of the LMA's famed season-starter
BIRTH OF A KIT: THE WILLIS WARBIRDS HAWKER TYPHOON
Alex Whittaker takes a look at this new 106" span scale kit aimed at warbirds enthusiasts.
FULL-SIZE FREE PLAN FEATURE
ANSALDO A.1 BALILLA
PART:2 Continuing the construction of this 1/8 scale model designed by Peter Rake and built by Pat Lynch.
ANSALDO SCALE DRAWING
1:40 fine-line three-views
ANSALDO A.1 'BALILLA' TYPE HISTORY
Italy's most successful fighter aircraft of the WW1 era.
EXTRA 300S
Although Boddo is no longer with us, his legacy of scale model designs lives on. This 56" (1422mm) span model of the famous aerobatic aircraft suits .60 – .70 cu.in. engines. It's 'sport-scale' so build it quickly for some rewarding summer scale aerobatics.
PAINT YOUR WAGON!
A basic introduction to painting and weathering, using WarbirdColours paint.
THE QUIET ZONE
Preview of more Rake designs in the pipeline, including the imminent 1/8th scale Albatros D.Va
TECHNO SCALE
Mike Evatt walks the digital highway for more TechnoScale Topics.