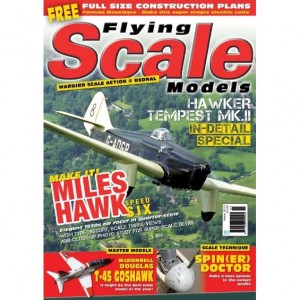 Issue 148
CONTACT
Scale model news
STRICTLY FOR TEMPEST FANS!
Simon Delaney passes on some detail close-up images of the Florida based Museum of Flight's rarely aired Hawker Tempest Mk.II. Photos: Bob Curry
FARMAN MOUSTIQUE F450
A small, electric powered model of a famous, French racing aircraft. Designed by Peter Rake, with the prototype model built and described by George Stringwell
GLORIOUS GOSHAWK
Paul Dunkley's T-45 Goshawk is in a class of her own
MILES HAWK SPEED SIX
Build this 1/4-scale 99" (2515mm) wingspan replica of the super-sleek 1930s air racer, for 120 size four stroke engines and 4-5 function radio. Designed by Ken Burke.
MILES HAWK SCALE DRAWINGS
1:50 fine-line three-views
MILES HAWK TYPE HISTORY
A true classic, from that 'Golden Age' of aviation, only three examples of the Speed Six were ever built, but the shape is one to savour
MILES HAWK SPEED SIX IN DETAIL
G-ADGP is the sole remaining Speed Six, but the detail shown here applies to the other two, to a greater or lesser extent.
SPIN(ER) DOCTOR!
Dr. Mike Hawkins F.R.Ae.S. offers his technique for one-off non-commercial scale spinners
WARBIRDS OVER REDNAL
Another venue, and another success. Are NW Warbirds unstoppable? Alex Whittaker finds out…
SCALE SOARING
Gull-wing construction. Is it, need it, be complicated or too difficult to contemplate? Try coping with it the Williams way!
THE QUIET ZONE
Try this micro-indoor R/C Fokker Dr.1 foamie