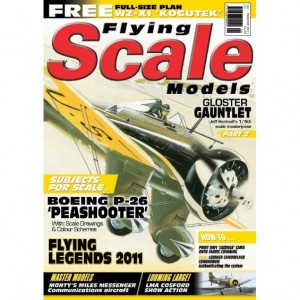 Issue 142
Contact
Scale Model News
Monty's Messenger
Chris Peers' stunning Miles Messenger communications aircraft in the colours of Field Marshal Mongomery's personal aircraft
Flying Legends 2011
Classic full-size aviation action
Scale Soaring
Spalinger flown; but not without drama and a realisation that there is no such thing as 'standard' aileron differential
FULL-SIZE FREE PLANS
WZ-XI 'KOGUTEK'
A scale electric powered model designed by Peter Rake, the prototype model built, described and flown by Matt Haugh
Boeing P-26A
Boeing's 'winged messenger' of the end of the fighter biplane era, much loved by those who flew it.
Boeing P-26A Scale Drawing
1:40 fine-line three-views
Boeing P-26A Flying Colours
Authentic colour scheme choices.
A scale veteran remembers
Frank Mizer was a B-17G waister gunner who became a P.o.W in 1944 when his aircraft went down over Germany on its first mission. Since then he has been a life-long scale modeller and 'Best-of-Show' achiever at the annual Toledo R/C Expo
Gloster Gauntlet Part 2
Designer Jeff Harnoll finishes off construction, and includes surface detail – plus an option for glass fibre or conventional built-up wood engine cowl
Scale at Cosford
Alex Whittaker takes his camera to the LMAs biggest event of the year.
The Quiet Zone
This Month: How to print WW1 German 'Lozenge' camouflage onto fabric covering
The Lozenge Pattern Conundrum
The late Ron Moulton extensively researched these unusual German WW1 camouflage schemes
Techno scale
Mike Evatt searches cyberspace for more TechnoScale Topics