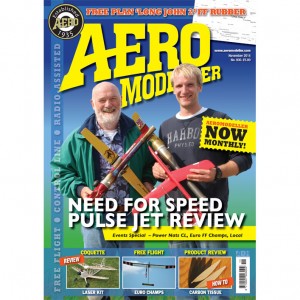 AeroModeller issue 012 (930) November 2014 (Published October 16th)
Heard at the Hangar Doors
Editorial and News from across the Globe
Up and Coming
Calendar of Events for the next months, including Impington College Indoor
Off the Shelf
A look at new and innovative products.
Early Diesels
Life before the Mills? Peter Scott investigates the early history of Diesels.
British Power Nationals
● CL Combat at the Nats – Mick Lewis
● CL Speed at the Nats – Dave Smith
● CL Aerobatics at the Nats – Glen Alison
Scale Matters
Report on FF Scale at the Power Nationals by Bill Dennis.
Replacing and Updating Rechargeable Batteries
In this first part, Shaun Garrity considers the different technologies.
British Wakefields of 1950
Martin Pressnell looks back at the evolution of Wakefields in this period of change.
East Anglian FF Gala
A photo report by Dave Hipperson.
HobbyKing Pulse Jet Review
CL Speed supremo Dick Hart reviews and improves this modern pulse jet.
Free Plan – Long John 2
Andy Sephton's simple but effective all sheet (Balsa or Depron) model is suitable for beginners but is also competitive.
Aero Post
Readers letters by post and email.
Euro Free Flight Championships
Michael J. Woodhouse reports on this FAI event held in Romania.
A' Levels in Aeromodelling?
How 17 years old Cameron Liddell-Grainger used aeromodelling for his Design Technology project.
Power Trip
The OS LA46-S glow engine is put through its paces by Maris Dislers.
Better Propellers Part7
John O'Donnell shares his experience on preparing and storing rubber motors.
Timperley Gala 17th August 2014
Report on this local FF contest by John O'Donnell and Dave Hipperson.
Web Walk
Mike Evatt's guide to the best websites for aeromodellers.
Coquette Kit Review
The Old School Model Aeroplane Factory's laser cut version of this Smeed classic is built by Andrew Boddington.
The 'AeroModeller' Index
Finding that article or review in 80 years of AM is made easier by Colin Usher's database.
Carbon Tissue Review
Another innovative product from Deluxe Materials is put through its paces by Mike Evatt.
Prop Design by Rule of Thumb
Part 2 of Supercool's guide to designing competitive i.c. power props.
Tail End Charlie
The thoughts of Chris Ottewell.