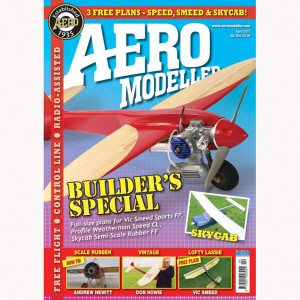 AeroModeller issue 017 (935) April 2015 (Published March 19th)
4 Heard at the Hangar Doors
Editorial, News and Views.
7 Up and Coming
Calendar of Events for the next months.
8 Off the Shelf
A look at new and innovative products.
10 CS CT09 Diesel
Adrian Duncan reviews this familiar retro styled 1.5cc engine.
14 FREE PLAN – Profile Weatherman
Looking for an entry point to CL Speed? This simplified version of the Cyril Shaw classic design is intended for a one engine Clubman Class.
19 RC Control Line Flying
Alan Watson explains how RC Assist is helping new CL flyers.
20 The Future of Free Flight
Mike Woodhouse considers possible solutions to ensure continuation of FF Duration competitions.
22 Scale Rubber
Detailed design and construction of rubber powered outdoor scale – by Andrew Hewitt.
26 Inside Indoor, Part2
The skills and science of indoor duration flying by Clive King.
28 FREE PLAN – Lofty Lassie by Vic Smeed
Andy Brough rescues a model from Vic Smeed's loft and produces this new 36" design for FF or Radio Assist.
32 FREE PLAN – Vauxhall's Skycab
Richard Crossley turns this unbelievable flying car in to a small rubber powered model which will set
you apart from the crowd!
38 Better… Preparation Before Trimming
John O'Donnell on what to do between the building board and the flying field.
42 How to get started in Combat, Part 2
Mick Lewis leads you through the steps towards flying CL competitively.
46 Michael Marshall's Coupe d'Hiver 2014
Model described by Dave Hipperson.
50 From the Armchair
A relaxed look at aerodynamics through the ages by Supercool.
52 In Scale Circles
The 3 line control system is explained by Bernard Seale.
54 A Walk in the Park
New contributor Pat Tritle gives a Stateside view of small field flying.
58 For Old Time's Sake
Don Howie's Vintage perspective from Oz.
62 Model Rockets
Stuart Lodge on how to get started in rockets and the competitions open to younger readers.
66 Tail End Charlie
The thoughts of Chris Ottewell.