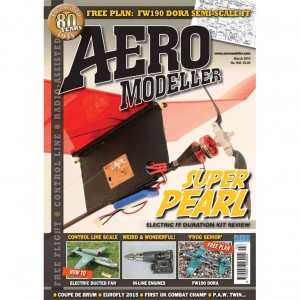 AeroModeller issue 028 (946) March 2016 (Published Feb 18th)
04 Heard at the Hangar Doors
Editorial, News and Views
07 Up and Coming
Calendar of Events for the next
months.
08 Off the Shelf
A look at new and innovative
products.
10 Topical Twists
A wry look at aeromodelling by
'Jeremy Paxolin'.
12 Power Trip – PAW 38 Twin
Maris Dislers gets to grip with a
large opposed twin cylinder diesel from the
Eiffl aenders.
16 Super Pearl
The electric Super Pearl FF duration
model is reviewed by Mike Evatt.
20 Retro RC Transmitter
Ron Buckwell captures his lost youth
by recreating the Pathfinder single channel Tx.
22 'Coupe de Brum'!
N. Luffenham was the venue for the
40th Anniversary AeroModeller Trophy
C d'H event. Reporter Dave Hipperson.
26 Weird & Wonderful Engines
In part 1, Dick Roberts describes and
runs some historic in-line engines.
30 Developing a new Tissue Paste
Andy Sephton explains his work in
testing new formulae for Deluxe Materials.
38 Sparmax Compressor Review
Can this compact unit from the
Airbrush Co. deliver for the modeller?
Richard Crossley tests.
40 Airbrush Quiz
The answer and winner.
41 Aero Post
Readers' letters by post and email.
42 Eurofly 15
World Cup FF action in Switzerland
is reported by Mike Evatt.
44 From the Armchair
'Supercool' Stuart Sherlock looks
at 'adverse yaw' and recalls his FF trimming
experiences.
46 UK Combat World Champ Winners
Tony Parton-Frost looks back with
two legends of combat: Mick Tiernan and
Mervyn Jones.
50 Better… Inside. Part 21
The long view of Indoor flying with
some hints and tips by John O'Donnell.
56 Making a GF Cowl
Peter Scott gives some tips on making
a glassfibre cowl.
58 Rocket Propulsion History
How Jetex and beyond were reported
in AeroModeller. Roger Simmonds looks
back.
62 CL Scale EDF
Ronnie Tribe describes how he has
developed his successful range of Electric
Ducted fan CL models.
66 Tail End Charlie
The thoughts of Chris Ottewell.