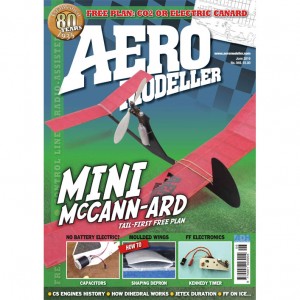 AeroModeller issue 031 (949) June 2016 (Published May 19th)
04 Heard at the Hangar Doors
Editorial, News and Views.
07 Up and Coming
Calendar of Events for the
next months.
08 Off the Shelf
A look at new and
innovative products.
10 Kennedy Timer for FF
Dan Kennedy's electronic timer
for FF models is reviewed by Mike Evatt.
14 60 Years an Aeromodeller in
China
Gao Guo Jun the founder of CS engines
looks back at a career in aviation that
spans major historical changes within
China.
20 Dihedral
How does dihedral give stability?
Bob Davis explains.
24 Moulding Depron
Arnaldo Correia's method using
hot water to shape Depron for small
model wings.
38 Holiday On Ice FF
Mike Woodhouse reports from
the cold of a frozen Norwegian lake.
40 Small Sparkies
Choosing and using spark
ignition petrol engines. Peter Scott gives
his advice.
44 Power Trip – Redfin 030 RV & FI
Two new 0.5cc twin ball race diesel
engines are tested by Maris Dislers.
48 Better… Reactions. Part 24
John O'Donnell looks back at
the heyday of Jetex duration flying.
54 Lubricants Part 2
John Bristow compares different
synthetic and natural lubricants for
engines.
56 The Trials of F1D
Part 2 of Hans Staartjes personal
reflections on flying LW indoor duration.
60 Super Capacitors
Gareth Evans gives guidance on
using capacitors instead of rechargeable
batteries.
66 Tail End Charlie
The thoughts of Chris Ottewell.