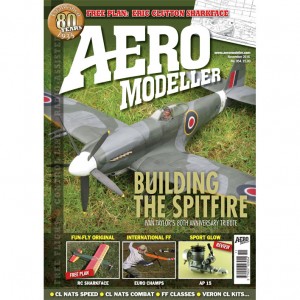 AeroModeller issue 036 (954) Nov 2016 (Published Oct 20th)
04 Heard at the Hangar Doors
Editorial, News and Views.
07 Up and Coming
Calendar of events for the
next months.
08 Off the Shelf
A look at new and innovative
products.
10 FF Euro Champs
Team manager Mike Woodhouse on
the UK's performance in Serbia.
14 From the Armchair
'Supercool' Stuart Sherlock continues
his hunt for FF stability.
Power Nationals
18 CL Combat Nats
1/2A, F2E and Vintage Combat at
Darley Moor is reported by Richard Evans.
22 CL Speed Nats
The speed fraternity decamp to
Barton for modern and nostalgic classes.
26 RAFMAA Champs
Paul Blakeborough covers the model
fl y-in for Forces members and affiliates.
28 FREE PLAN – Sharkface and
Clutton Autobiography
Sharkface designer Eric Clutton looks back
at a flying life and designing this fun-fl y
classic.
38 Spitfire MkXXII
Part 2. Ivan Taylor on building the
fuselage and under-carriage of his Spitfire.
42 Power Trip – AP Yellow Jacket 15
The AP 2.5cc sports glow engine is
reviewed by Maris Dislers.
46 Free Flight Classes
Part 1. Mike Evatt contrasts the
different FF glider classes.
50 Multi-Engine CL
Ronnie Tribe on his latest multiengined
scale CL – the Boeing B-17G
56 Better… Habits!
John O'Donnell on better fuselage
construction.
60 Famous CL Kits – Veron
Don Howie and Ian Smith on the
designs of Veron's Phil Smith.
63 'Have-a-Go' CL
The South Bristol club let the public
experience the thrills of CL flying.
64 SAM1066 at Salisbury Plain
The move from Middle Wallop
heralds a new era for SAM 1066 events.
66 Tail End Charlie
The thoughts of Chris Ottewell.
Uncategorized