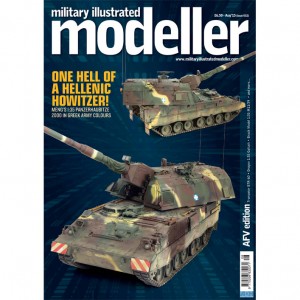 MIM – Aug '15 (52) – Published 16th July 2015
4 News
Military model product news
6 'TEN HUT!
Sixteen new military kits on parade
8 IT'S SHIZUOKA CITY SHOWTIME!
MiM flies out to Japan to attend the Shizuoka Hobby Show
14 ORDNANCE DEPOT
New and recent accessory sets and modelling materials
16 SPECIAL STURMGESCHUTZ
Angus Creighton builds Dragon's 1:35 StuG.III F8
22 DEEPLY DETAILED 'D
Tamiya visited the Netherlands to measure a real Panther, so it's accurate!
24 AFGHANISTAN WARRIOR
Trumpeter's excellent 1:35 BTR-60 from the 1979-1989 war in Afghanistan
30 A HELL OF A HELLENIC HOWITZER!
Meng's 1:35 Panzerhaubitze 2000 in a Greek Army scheme
38 M1078 FMTV LIGHT UTILITY TRUCKS
References for the US Army's M1078 FMTV
42 A TINY PHILISTINE WARRIOR
Adding crucial detail to Dragon's tiny 1:35 Goliath demolition vehicle
50 MEANWHILE, IN NORMANDY…
US P-47 pilots examine a KO'd Panther in Normandy
52 CARRO ARMATO AT SIDI BARRANI
Building, painting and weathering Brach's superb 1:35 M11/39
59 IF YOU'VE GOT THE LUCHS…
A look in the box of Takom's new 1:35 SpPz 2 Luchs armoured car
60 BOOK REVIEWS
Military model-related book reviews
62 ORDNANCE DEPOT EXTRA
Even more new and recent accessory sets!
66 SIGN OFF
Dioramas to build before you die