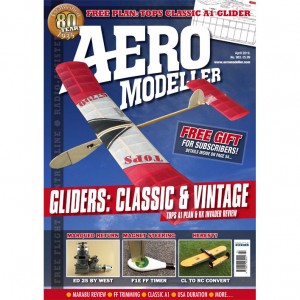 04 HEARD AT THE HANGAR
DOORS
EDITORIAL, NEWS AND VIEWS.
07 UP AND COMING
CALENDAR OF EVENTS FOR THE
NEXT MONTHS.
08 POWER TRIP –
ED 25 BY WEST
ONE OF A NEW RANGE OF ED BY
WEST DIESELS IS TESTED B
Y MARIS DISLERS.
12 CLASSIC A1
STUART DARMON LOOKS BACK AT
THE GENESIS OF THE A1 SMALL
GLIDER CLASS.
18 RADIO ASSIST
DAVID LOVEGROVE ON CONVERTING
CL STUNT MODELS TO RC.
24 TRIMMING
ANDY SEPHTON'S METHODICAL
APPROACH TO TRIMMING RUBBERPOWERED
FF SCALE AND
SPORTS MODELS.
30 FREE PLAN – TOPS GLIDER
STUART DARMON REVISITS E
ANDERSEN'S CLASSIC NORDIC A1.
39 AEROPOST
YOUR LETTERS AND EMAILS
40 THE SAXBY GNAT
VIN HERON LOOKS AT THE 0.13CC
DIESEL PRODUCED BY LES SAXBY.
44 F1E TIMER
ALAN BOND AND THE LATE DOUG
BARTLE ON THE DEVELOPMENT OF A
TIMER FOR MAGNET STEERING
GLIDERS.
48 SCALE MATTERS
BILL DENNIS AND ANDREW
BODDINGTON ON THE EDDIE RIDING
BRISTOL "BULLET" SCOUT.
56 SWR ARIZONA
MIKE WOODHOUSE REPORTS FROM
THIS LARGE US FF EVENT.
60 BUILD REVIEW – MARABU
THE HIESBOK SPORTS RUBBER KIT IS
REVIEWED BY STEPHEN EDWARDS.
62 BUILD REVIEW – KK INVADER
KEIL KRAFT VINTAGE GLIDER KIT
REVIVAL FROM RIPMAX REVIEWED
BY BILL DENNIS.
66 TAIL END CHARLIE
THE THOUGHTS OF CHRIS OTTEWELL.