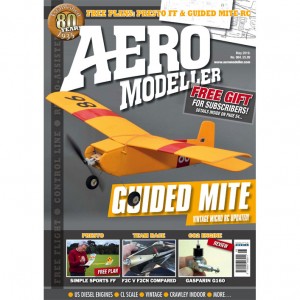 04 HEARD AT THE HANGAR
DOORS
EDITORIAL, NEWS AND VIEWS.
08 UP AND COMING
CALENDAR OF EVENTS FOR THE
NEXT MONTHS.
10 OFF THE SHELF
NEW AND INNOVATIVE PRODUCTS.
12 IN SCALE CIRCLES
THE FRUITS OF THE TRIBE FAMILY'S
WINTER CL SCALE BUILDING.
16 POWER TRIP –
GASPARIN 160
MARIS DISLERS REVIEWS THIS STILL
AVAILABLE CO2 MOTOR.
20 TEAM RACE
DO YOU KNOW YOUR GOODYEAR
FROM F2C AND F2CN? SIMON
MOLYNEUX'S BEGINNER'S GUIDE.
26 FREE PLAN 1 – GUIDED MITE
ARNALDO CORREIA UPDATES A
1957 VINTAGE BALSA RC DESIGN TO
FOAM FOR INDOOR FLYING.
38 FREE PLAN 2 – PRESTO
A SIMPLE STICK FF MODEL FOR 0.25
TO 0.5CC ENGINES FROM THE PEN
OF MARIS DISLERS.
42 FOR OLD TIME'S SAKE
A VINTAGE PERSPECTIVE FROM OZ
BY DON HOWIE.
46 REVIEW –
OLYMPUS OMD E1 MKII
A CAMERA IN AM? YES, AS IT
OFFERS INCREDIBLE SHARP IMAGES
OF SMALL OBJECTS SUCH AS
ENGINES. DAVE HIPPERSON
REVIEWS.
50 CRAWLEY INDOOR
DAVE BISHOP GIVES HIS PERSONAL
RECOLLECTIONS OF THIS POPULAR
CADMAC ORGANISED EVENT.
56 NIPPER UPDATE
UPDATE ON THE JANUARY TIPSY
NIPPER FREE PLAN FROM
RICHARD CROSSLEY.
58 DIESELS IN AMERICA
WHY DIDN'T THE DIESEL MODEL
ENGINE CATCH ON IN THE USA?
ADRIAN DUNCAN CONSIDERS.
66 TAIL END CHARLIE
THE THOUGHTS OF CHRIS OTTEWELL.