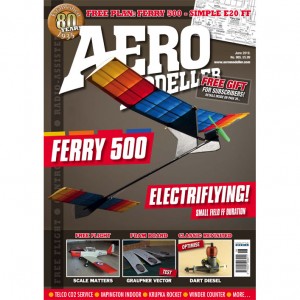 04 HEARD AT THE HANGAR
DOORS
EDITORIAL, NEWS AND VIEWS.
07 UP AND COMING
CALENDAR OF EVENTS FOR THE NEXT
MONTHS.
08 POWER TRIP – DC DART
AS THE DART DIESEL APPROACHES
70 YEARS, MARIS DISLERS GIVES PERFORMANCE
ADVICE.
14 SCALE MATTERS
FREE FLIGHT SCALE INCLUDING
SETTING AND DISGUISING ENGINE THRUSTLINES,
BY BILL DENNIS.
22 WINDER COUNTER
MARIS DISLERS ON USING A
COMMERCIAL COUNTER TO KEEP TRACK OF
YOUR TURNS WITH THE K&P WINDER.
24 COVER TO COVER
NEW AVIATION BOOKS REVIEWED BY
CHRIS OTTEWELL.
28 FREE PLAN – FERRY 500
AN E20 ELECTRIC DURATION MODEL
FOR SMALL FIELD FLYING FROM JONATHAN
WHITMORE.
38 FUTURE OF FOAM?
BOB LEE TRIES OUT VECTOR
BOARD, A NEW FOAM SHEET PRODUCT FROM
GRAUPNER.
46 IMPINGTON INDOOR
ANDREW BODDINGTON REPORTS
FROM THIS POPULAR INDOOR EVENT FOR
PEANUT SCALE AND BOSTONIANS.
50 KK SENATOR BUILD
ANDY SEPHTON USES DELUXE
MATERIALS ADHESIVES TO BUILD THE
RERELEASED SENATOR.
54 MODEL ROCKETRY
STUART LODGE ON CZECH CLUB
RMK KRUPKA AND THE SUCCESS THEY'VE HAD
DEVELOPING YOUNGSTERS.
57 AEROPOST
YOUR LETTERS AND EMAILS.
58 TELCO TUTORIAL
GARETH EVANS EXPLAINS HOW TO
SERVICE THIS STILL WIDELY USED CO2 MOTOR.
66 TAIL END CHARLIE
THE THOUGHTS OF CHRIS OTTEWELL.