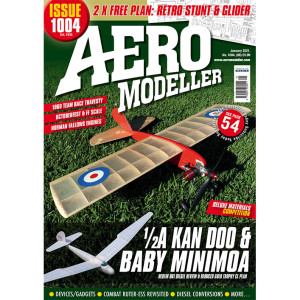 04 HEARD AT THE
HANGAR DOORS
EDITORIAL, NEWS AND VIEWS.
08 DELUXE MATERIALS
COMPETITION
SHARE AN INNOVATIVE USE OF A DELUXE
MATERIALS PRODUCT AND WIN £100 OF
GOODIES.
10 DIESEL CONVERSIONS
PETER TARN EXPLAINS HIS APPROACH TO
CONVERTING GLOW ENGINES.
14 RETURN OF
RUTER-ESS
THE LIGHTWEIGHT VINTAGE COMBAT MODEL
IS REVISITED BY TIM HOBBINS WITH RICHARD
WILKENS.
20 TEAM RACE
TRAVESTY
THE IMPACT OF OFFICIALS AT THE 1960 CL
WORLD CHAMPS IS EXAMINED BY ADRIAN
DUNCAN.
26 FREE PLAN 1 –
BABY MINIMOA
A 34" SPAN SEMI-SCALE VERSION OF THIS
GRACEFUL GLIDER BY 'LURK'.
38 POWER TRIP –
REDFIN 061
MARIS DISLERS REVIEWS THE 1CC MILLISH
DIESEL AND FLIGHT TESTS IT IN…
41 FREE PLAN 2 –
½A KAN DOO
A REDUCED SIZE VERSION OF PETE COCK'S 1948
GOLD TROPHY WINNING KAN DOO.
44 NORMAN FALLOWS
ENGINES
JIM WOODSIDE SURVEYS THE EXQUISITE MODEL
AERO ENGINES CONSTRUCTED BY HIS FRIEND
NORMAN FALLOWS.
50 SUPERMARINE S5
PART 3: IVAN TAYLOR APPLIES THE FINISHING
TOUCHES TO HIS SCALE FLOATPLANE.
56 GADGETS/DEVICES
MARTIN DILLY SHARES SOME TIPS TO MAKE A
BETTER BUILD.
60 OCTOBERFEST
& FF SCALE
GOOD WEATHER MADE FOR A GLORIOUS
WEEKEND OF SAM 35, BMFA FF SCALE AND
TETHER CAR ACTIVITIES.
66 TAIL END CHARLIE
THE THOUGHTS OF CHRIS OTTEWELL.