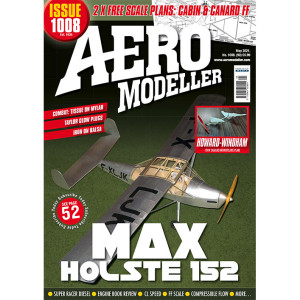 04 HEARD AT THE
HANGAR DOORS
EDITORIAL, NEWS AND VIEWS.
07 UP & COMING
CALENDAR OF EVENTS.
08 OFF THE SHELF
NEW AND INNOVATIVE PRODUCTS.
10 POWER TRIP –
REDFIN SUPER RACER
SHRUNKEN AND ENLARGED! MARIS DISLERS
TESTS THE ED STYLED 0.6CC DIESEL.
14 IRON ON BALSA
EREZ FRIEDMAN EXPLAINS HIS METHOD FOR
FUSELAGE SHEETING.
18 KK ACE REVISITED
FURTHER EXPERIMENTS BY ARNALDO CORREIA
WITH HIS RC CONVERSION.
22 SCALE MATTERS
BILL DENNIS WITH THE LATEST FF SCALE BUILDS.
26 TISSUE ON MYLAR
IS TISSUE COVERING SUITABLE FOR CL
MODELS INCLUDING COMBAT? TIM HOBBINS
INVESTIGATES.
30 FLY THE WORLD
AN UPDATE ON THE TRAVELS OF THE SAM 50
DIESEL FROM CHRIS OTTEWELL.
32 FREE PLAN 1 –
MAX HOLSTE 152
BILL DENNIS BUILDS THIS PRETTY RUBBERPOWERED
SCALE MODEL BY GEORGE WOOLLS.
38 FREE PLAN 2 –
WINDHAM MONOPLANE
A SCALE MODEL THAT LOOKS LIKE A CANARD
BMFA DART?! A 1909 ODDITY FROM CULF,
COOPER & PENNA.
42 CL SPEED –
BLUE THUNDER III
CHRIS MARTINDALE'S RECORD ATTEMPTING
MODEL COMPLETED WITH THE HELP OF DELUXE
MATERIALS.
46 TAYLOR GLOWPLUGS
CHAS TAYLOR RECOUNTS THE FIRST PART OF HIS
AEROMODELLING AUTOBIOGRAPHY.
54 COMPRESSIBLE FLOW
SUPERCOOL SHOWS HOW COMPRESSIBLE
FLOW IS DEALT WITH IN HIGH-SPEED PROPELLER
DESIGN.
58 KIT REVIEW – ROOKIE
CHRIS OTTEWELL BUILDS A CAPACITOR
POWERED BEGINNER'S MODEL FROM THE
NETHERLANDS.
61 KIT REVIEW –
BLERIOT XI
CONVERSION OF THE TONY RAY MICRORC
BLERIOT TO FF RUBBER BY GORDON HANNAH.
62 COVER TO COVER
CHRIS OTTEWELL REVIEWS JAMES E DUNKIN'S
2.5CC 'A' CLASS ENGINE REFERENCE.
66 TAIL END CHARLIE
THE THOUGHTS OF CHRIS OTTEWELL.