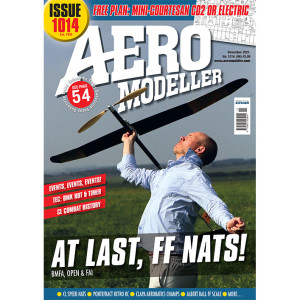 04 HEARD AT THE
HANGAR DOORS
EDITORIAL, NEWS AND VIEWS.
08 AEROPOST
READERS' LETTERS AND EMAILS.
09 UP & COMING
CALENDAR OF EVENTS.
10 OFF THE SHELF
NEW AND INNOVATIVE PRODUCTS.
12 FF NATIONALS:
BMFA, OPEN & FAI
MIKE WOODHOUSE REPORTS FROM THE TWO
WEEKENDS OF THE SUBSTITUTE FF NATIONALS
HELD AT SALISBURY PLAIN.
20 COMBAT HISTORY
PART 1: RICHARD WILKENS TAKES US BACK
THROUGH HIS EARLY LIFE AS AN AEROMODELLER
AND CL COMBAT FLYER.
24 PRODUCT REVIEW:
BMK TIMERS & RCDT
A NEW RANGE OF FF TECHNOLOGY FROM BMK
LOOKS SET TO MAKE ELECTRONIC TIMERS AND
RCDT AVAILABLE TO ALL. CHRIS EDGE REVIEWS.
32 FREE PLAN –
MINI-COURTESAN
A SMALL VERSION OF VIC SMEED'S COURTESAN
BY DAVID DEADMAN FOR CO2 OR ELECTRIC.
36 CLAPA CHAMPS
STEVE WHITE REPORTS ON THE CL AEROBATIC
PILOTS ANNUAL CONTEST.
40 ALBERT BALL GALA
A NEW EVENT ON THE FF SCALE CALENDAR IS
REPORTED ON BY ANDREW BODDINGTON.
44 E.D. ENGINES
PART 2 OF KEVIN RICHARDS GUIDE TO
IDENTIFYING YOUR OLD ENGINES.
50 PONTY RETRO RC
THE DELAYED RETRO RC AND CL EVENT FINALLY
RUNS AT THE PONTEFRACT RACE COURSE.
56 NATIONALS CL SPEED
DICK HART COVERS THE HANDICAP SPEED EVENT
AT BARTON.
60 THREE BLÉRIOTS
PETE FARDELL SHARES HIS OBSESSION WITH
BLÉRIOT'S CHANNEL CROSSING MONOPLANE.
66 TAIL END CHARLIE
THE THOUGHTS OF CHRIS OTTEWELL.