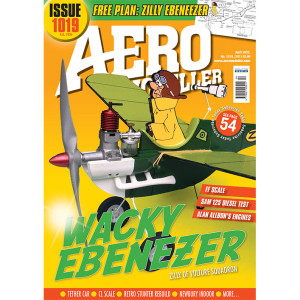 04 HEARD AT THE
HANGAR DOORS
EDITORIAL, NEWS AND VIEWS.
08 TOPICAL TWISTS
A SIDEWAYS VIEW OF AEROMODELLING
FROM JEREMY PAXOLIN.
09 UP & COMING
CALENDAR OF EVENTS.
10 POWER TRIP –
SAM 125
MARIS DISLERS REVIEWS THE 1.25CC DIESEL
ADDITION TO THE SAM RANGE.
16 SCALE MATTERS
THE LATEST FF SCALE BUILDS
FROM BILL DENNIS.
22 TETHER CARS
OLIVER MONK DESCRIBES SHAFT DRIVEN
TETHER CARS.
26 FF ROLLABALL?
HAS THE STABILITY OF FF LOW WING MODELS
BEEN SOLVED?
29 AEROPOST
READERS' LETTERS AND EMAILS.
30 FREE PLAN –
ZILLY-ENEZER
CHRIS BRAINWOOD'S DICK DASTARDLY VULTURE
SQUADRON EBENEZER FOR SMALL ENGINES.
40 IN SCALE CIRCLES
THE LATEST CL SCALE BUILDS
FROM RONNIE TRIBE.
46 TRINITY INDOOR
YOUR EDITOR VISITS A NEWBURY GROUP
OF INDOOR FLYERS.
50 BAGA REBUILD
GLEN ALISON REVISITS THIS CL AEROBATICS
BUILD AFTER NEARLY 50 YEARS.
56 SILVER GHOST
STEVE MIDSON CONVERTS THE GHOST SHIP
JANUARY FREE PLAN TO DEPRON FOAM.
60 ALLBON ENGINES
PART 1: THE EARLY YEARS OF ALAN ALLBON AND
HIS MUCH LOVED ENGINE RANGE.
66 TAIL END CHARLIE
THE THOUGHTS OF CHRIS OTTEWELL.