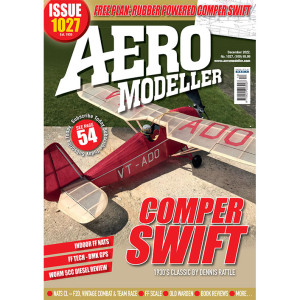 04 HEARD AT THE
HANGAR DOORS
EDITORIAL, NEWS AND VIEWS.
07 UP & COMING
CALENDAR OF EVENTS.
08 POWER TRIP –
WOHM 5
A NEW 5CC DIESEL FROM CRE8TIONWORX IS
TESTED BY MARIS DISLERS.
14 GPS LOCATOR
REVIEW
THE LATEST TECHNOLOGY FROM BMK OFFERS COST
EFFECTIVE GPS ENABLED RETRIEVAL FOR YOUR
MODEL.
22 SCALE MATTERS
BILL DENNIS ON THE LATEST FF SCALE ACTIVITIES.
28 FREE PLAN –
COMPER SWIFT
DENNIS RATTLES PLEASING RUBBER POWERED
SCALE DESIGN IS BUILT BY RICHARD FALCONER.
38 COVER TO COVER
THE LATEST AVIATION BOOKS ARE REVIEWED BY
CHRIS OTTEWELL.
42 CL NATS:
TEAM RACE
SIMON MOLYNEUX REPORTS FROM THE
RESCHEDULED CL NATIONALS AT BUCKMINSTER.
48 CL NATS:
VINTAGE COMBAT
DENIS MURPHY REPORTS ON THE VINTAGE COMBAT.
53 CL NATS:
F2D COMBAT
A PRECIS OF THE FAI COMBAT EVENT BY GORDON
PRICE.
56 OLD WARDEN
THE LAST EVENT OF THE SEASON IS COVERED BY
ANDY BROUGH AND ANDREW BODDINGTON.
60 INDOOR NATIONALS
THE INDOOR PERFORMANCE NATIONALS REPORT BY
MEREDITH EVANS.
66 TAIL END CHARLIE
THE THOUGHTS OF CHRIS OTTEWELL.