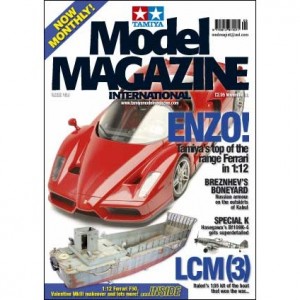 November 2004
Issue 109
»PRANCING HORSEPOWER
Tamiya's new 1:12 Enzo finished model is a collector's masterpiece, and it complements the yellow F50 perfectly.
»THE BOAT THAT WON THE WAR
Italeri's LCM(3) is just out, but is it better than Trumpeter's kit?
»SPECIAL K
Hasegawa's late war Bf109 is one of the best aircraft kits currently on offer – but we just had to add resin and brass.
»COUNTING RIVETS
A 1:35 Valentine MkIII gets a makeover – part one
»BREZNHEV'S BONEYARD
Kabul's infamous tank graveyard reveals some decaying gems
»WEAPONS OF MASS VICTORIES
The final part of our RC211V article looks at Rossi and Hayden's machines