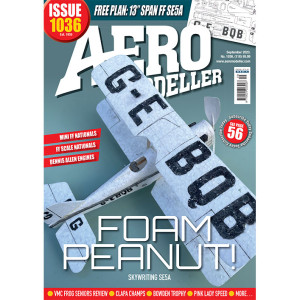 04 HEARD AT THE
HANGAR DOORS
EDITORIAL, NEWS AND VIEWS.
07 UP & COMING
CALENDAR OF EVENTS.
08 FF NATIONALS
THE MINI FF NATIONAL CLASS EVENTS AT
N. LUFFENHAM REPORTED ON BY CHRIS EDGE.
14 FF SCALE
NATIONALS
PETE FARDELL COVERS FF SCALE AT THE
NATIONALS WITH PHOTOS BY ANDREW
BODDINGTON.
20 BOWDEN TROPHY
BRIAN WATERLAND ON THE IC PRECISION EVENT AT
THE FF NATIONALS.
22 CELEBRITY
MODELLER!
MARTIN THOMPSON SHARES HIS "15 MINUTES OF
FAME" AND AEROMODELLING RELATED PROJECTS.
24 PINK LADY
PART 1 OF PAUL EISNER'S PROJECT TO RECREATE
THE CLASSIC MONOLINE SPEED MODEL.
30 FREE PLAN –
FOAMIE SE5A
CHRIS BRAINWOOD'S PEANUT CLASS SIZED PLAN
FOR A WALLFOAM CONSTRUCTED SE5A.
40 CLAPA CHAMPS
THE CL AEROBATICS HOME INTERNATIONAL &
CLAPA CHAMPS ARE REPORTED BY STEVE WHITE.
44 BEGINNERS' SERIES
– FROG SENIOR
PART 5 – STUART MARSDEN REVIEWS THE FROG
SENIOR SERIES KITS AVAILABLE AGAIN FROM VMC.
50 DENNIS ALLEN
ENGINES
PART 1 OF THE LIFE OF ENGINE DESIGNER AND
MANUFACTURER DENNIS ALLEN BY ADRIAN
DUNCAN.
58 VINTAGE COMBAT
TIM HOBBINS ON THE 5TH ROUND OF THE VINTAGE
LEAGUE AND COMBAT ENGINE AVAILABILITY.
62 DOMINATOR DAY!
SBMAC'S ONE MODEL COMBAT COMPETITION IS
REPORTED BY RICHARD EVANS.
66 TAIL END CHARLIE
THE THOUGHTS OF CHRIS OTTEWELL.