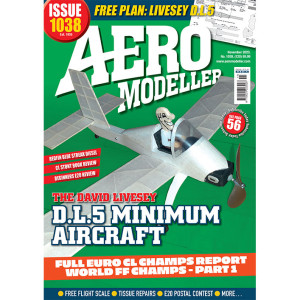 04 HEARD AT THE
HANGAR DOORS
EDITORIAL, NEWS AND VIEWS.
09 UP & COMING
CALENDAR OF EVENTS.
10 POWER TRIP –
REDFIN BLUE STREAK
MARIS DISLERS FINDS THAT THIS CLASSIC MODEL
DIESEL SETS A NEW PERFORMANCE BENCHMARK.
16 FF WORLD
CHAMPIONSHIPS
YOUR NEW EDITOR REPORTS FROM FRANCE ON THE
2023 FF WORLD CHAMPIONSHIPS, PART 1 COVERS
THE OPENING CEREMONY AND F1A DAY.
26 CL STUNT HISTORY
BOOK REVIEW
PETE TINDAL REVIEWS THE DEFINITIVE HISTORY
OF CL STUNT.
30 FREE PLAN
LIVESEY D.L.5
A PEANUT SCALE MODEL BY RAY MALMSTRÖM,
REPRODUCED BY ADRIAN CULF & JOHN COOPER.
38 PETERBOROUGH
FLYING ACES
STUART MARSDEN REPORTS FROM THE
DELIGHTFUL PETERBOROUGH CLUB FLYING
ACES EVENT.
40 BEGINNERS'
SERIES – E20
PART 7 – STUART MARSDEN ON THE E20 CLASS,
BMK DT AND BUCKY MONDAYS.
46 FF SCALE
LODGE FARM
PETE FARDELL REPORTS FROM DEEPEST
LINCOLNSHIRE ON THE FIRST OUTDOOR SCALE
MEETING OF THE YEAR.
48 DELUXE MATERIALS
TISSUE REPAIR
ANDY SEPHTON DESCRIBES HOW TO REPAIR YOUR
TISSUE THE EZE WAY, WITH THE HELP OF DELUXE
MATERIALS.
EUROPEAN CL CHAMPS
50 EUROS F2A SPEED
PAUL EISNER REPORTS FROM WLOCLAWEK IN
POLAND ON THE F2A SPEED CONTEST.
54 EUROS F2D COMBAT
DAVE WISEMAN REPORTS ON THE COMBAT
COMPETITION IN POLAND.
58 EUROS F2C
TEAM RACE
THE MODERN TEAM RACING EUROS CONTEST IS
COVERED BY SIMON MOLYNEUX.
62 EUROS F2B
AEROBATICS
KEVIN MORGAN REPORTS ON THE AEROBATICS
CONTEST IN POLAND.
66 TAIL END CHARLIE
THE THOUGHTS OF CHRIS OTTEWELL.