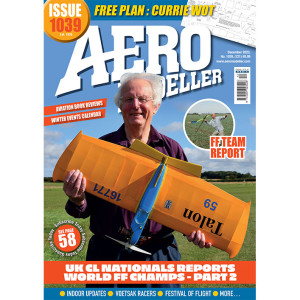 04 HEARD AT THE
HANGAR DOORS
EDITORIAL, NEWS AND VIEWS.
8 FF 2023 WORLD
CHAMPIONSHIPS –
PART 2
YOUR EDITOR REPORTS FROM FRANCE, WITH PART
2 OF THE 2023 FF WORLD CHAMPIONSHIPS REPORT,
COVERING THE F1B AND F1C DAYS, AND THE
CLOSING CEREMONY.
19 UP & COMING
CALENDAR OF EVENTS.
20 2023 FREE
FLIGHT WORLD
CHAMPIONSHIPS
BRITISH TEAM MEMBERS CHRIS EDGE AND STUART
DARMON PROVIDE THE INSIDE VIEW OF THE 2023 FF
WORLD CHAMPIONSHIPS.
28 FREE PLAN
CURRIE WOT
ANDY SEPHTON REVISITS THE ORIGINAL
AEROMODELLER 1965 CURRIE WOT ARTICLE, AND
PRESENTS AN UPDATED PLAN FOR THIS MUCH
LOVED HOME-BUILT FULL SIZE AIRCRAFT.
36 COVER TO COVER
CHRIS OTTEWELL REVIEWS A DOZEN FULL SIZE
AVIATION BOOKS, IN TIME FOR CHRISTMAS.
UK CL NATIONALS
42 FESTIVAL OF
FLIGHT
ANDREW BODDINGTON REPORTS FROM OLD
WARDEN ON THE FINAL
MODELAIR ORGANISED
EVENT OF THE YEAR.
44 UK NATS F2D
COMBAT
GORDON PRICE REPORTS ON THE GLORIOUS
F2D COMBAT COMPETITION FROM BMFA
BUCKMINSTER.
45 UK NATS F2E
COMBAT
F2E COMBAT AT BMFA BUCKMINSTER, WHICH HAD
A SIZEABLE ENTRY LIST, IS ALSO COVERED BY
GORDON PRICE.
47 UK NATS BRITISH
HALF A COMBAT
RICHARD HERBERT REPORTS ON THE HIGH QUALITY
HALF A COMBAT CLASS AT BMFA BUCKMINSTER.
48 UK NATS OLIVER
COMBAT
THE HOTLY CONTESTED OLIVER COMBAT CLASS IS
COVERED BY RICHARD HERBERT.
51 UK NATS VINTAGE
COMBAT
DENNIS MURPHY REPORTS ON THE EVER-POPULAR
VINTAGE COMBAT CLASS AT BMFA BUCKMINSTER.
54 UK NATS VINTAGE
TEAM RACE
MALCOLM ROSS REVIEWS THE WELL-ATTENDED
VINTAGE TEAM RACE CONTEST AT THE BARTON MFC
AIRFIELD.
60 UK NATS OPEN
SPEED
DICK HART REPORTS FROM BARTON MFC AIRFIELD
ON THE INTRICACIES OF THE OPEN SPEED CONTEST.
66 TAIL END CHARLIE
THE THOUGHTS OF CHRIS OTTEWELL.