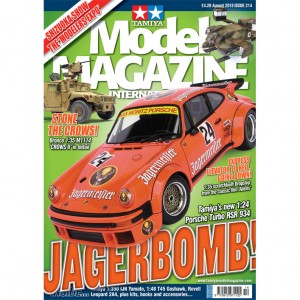 August 2013
Issue 214 – published on 18th July 2013
EXPRESS ELEVATOR TO HELL, GOING DOWN!
The construction of a 1:35 
Dropship from the classic 1986 
science-fiction film 'Aliens'…
JÄGERBOMB!
Tamiya's superb new 1:24 Porsche Turbo RSR 934
STONE THE CROWS!
Bronco's new M1114 HUMVEE with CROWS II in 1:35
4 NEWS DESK
New kit and model product news
6 SHIZUOKA SHOW; 
THE 'MODELERS' EXPO'
The Editor concludes this year's reports from Shizuoka City with a look at the 'Modelers' Expo'
16 TRAINING IN HI-VIS!
Kinetic's attractive 1:48 T.45 Goshawk 
US Navy trainer
26 KIT PREVIEW
ICM 1:24 G4 staff car
42 KIT PREVIEW
Riich Model 1:35 Universal Carrier
44 THE BIGGEST BATTLESHIP EVER BUILT!
Tamiya's magnificent new-tool 1:350 Yamato kit
50 KIT PREVIEW
Meng 1:35 pick-up truck w/ZU-23-2
52 NEW RELEASES KITS
New kits reviewed
54 LEOPARD SPOTTING, Part 2
Detailing Revell's new 1:35 Leopard 2A4
58 BOOK REVIEWS
New scale-modelling related titles
60 NEW RELEASES ACCESSORIES
New and recently issued modelling accessories
64 CONTACTS
Where to buy the products used and reviewed in TMMI
66 THE EDITOR'S PAGE
A camera, in kit-form!