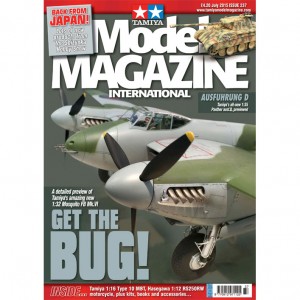 July 2015
Issue 237 – published on 18th June 2015
THE YEAR OF THE MOSQUITO!
Lots of new products from the Shizuoka Hobby Show!
GET THE BUG!
An in-depth Kit Preview of Tamiya's fabulous new 1:32 Mosquito FB Mk.VI
TAMIYA'S ALLNEW CITADEL 'D' IN 1:35
Tamiya's all-new 1:35 Panther ausf.D, previewed
NEWS DESK
New kit and model product news
NEW ARRIVALS
A new section showing some of the new kits received at TMMI
HANG ON LADS, I'VE GOT AN IDEA
Take some Tamiya RC components and modelling materials, add a heap of imagination and creativity and we have the coach from 'The Italian Job!'
TYPE 10 MAIN BATTLE TANK: IN CONTROL! PART 1
We open up the vast box of Tamiya's new 1:16 RC Type 10 tank and start work on the gearbox
NEW RELEASES ACCESSORIES
New and recently issued modelling accessories
PERFECT PTT!
Steeve Ingels builds Hasegawa's 1:12 Honda RS250RW and finishes it in Zero Paints
BONEYARD BONANZA
Wartime vehicle dumps offer some creative modelling ideas…
TAMIYA'S NEW CITADEL 'D' IN 1:35
Tamiya's new-tool Panther ausf.D, previewed
SISTER SARA IN 1:700!
Tamiya's revamped 1:700 CV-3 USS Saratoga, previewed
BOOK REVIEWS
New modelling related publications, reviewed
CONTACTS
Where to buy the products used and reviewed in TMMI
THE EDITOR'S PAGE
Another successful TMMI trip to Japan!