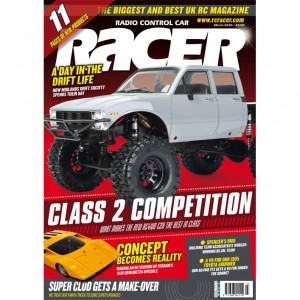 REVIEWS
24 TEAM ASSOCIATED B6.1DL
As used by Spencer Rivkin to win the 2019 IFMAR 2WD
World Championship, we just had to take a look at the
latest B6.1 to see what Team Associated has come up
with as the model in its current guise makes its final
hurrah.
34 TAMIYA GF-01TR MONSTER BEETLE
TRAIL
The new Monster Beetle Trail is based on the GF-01
chassis that was previously used for the Tamiya Dump
Truck, but now comes equipped with portal axles that not
only increase ground clearance, but lowers the gearing
too for greater control.
52 RC4WD C2X
The C2X is RC4WD's brand new class 2 competition
truck and comes supplied built and ready-to-run with an
impressive chassis spec and an electrics package that
is more than capable. But just how good is this high-end
scaler? Head to page 52 to find out.
FEATURES
14 UPGRADE FOR THE SUPER CLOD
With help from The Hobby Company, X-Factory UK,
CML Distribution and MCI Racing, Ian Peckett gives our
long-term test Tamiya Super Clod Buster a thorough
make-over for improved performance and even more
attitude.
46 THE TRILOGY IS COMPLETE
In the final of our three-part series, we add some awesome
options to the engine bay of our RC4WD TrailFinder 2 with a
replica alloy gearbox and a V8 motor to house the brushed
motor for a super realistic scale look.
64 A DAY IN THE LIFE OF MDS
In this month's Drift Diaries, Matt Ellis explains how the
Midlands Drift Society runs ones of its pop-up events at
Fazeley in Staffordshire, highlighting the demands placed
on their small team of hard-working volunteers.
68 A ONE-OFF FERRARI 512S BERLINETTA
SPECIALE
Michael Leonhard puts his creative skills to the test
by creating a replica body of the concept Ferrari 512S
Berlinetta Speciale using a Tamiya Group C chassis as the
platform.