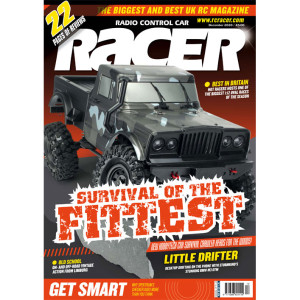 FEATURES
YOUR INSIGHT INTO THE BEST OF RC CARS,
PEOPLE AND TECHNIQUES.
14 OLD SCHOOL EURO MASTERS
The brilliant Racing Arena Limburg in Sittard, Netherlands
would once again host the Old School RC Euro Masters with
a strong line-up of British racers enjoying the social and
competitive elements of a weekend of vintage racing with both
off- and on-road classes.
28 FINAL PREP
With only a few weeks left before the Iconic RC Revival
weekend, John Weston caught up with some new faces and
regular racers who will compete at Bingham Model Raceway,
getting an insight into their machinery as well as their RC
background.
40 GET SMART
Spektrum XBC100 Smart Battery Checker and Servo Driver is a
great tool for an RC enthusiast for keeping an eye on the status
REVIEWS
THE LATEST THRASH TESTS.
22 STURMKIND DRIFT BMW M3 DTM
GYMKHANA EDITION CLASSICS SERIES
So it might have one of the longest names but the BMW M3
DTM is a micro-sized drift car operated by a smart
phone that blends gaming and real world racing
simulation. The diecast model is super detailed
and offers performance to match as we
found out in our in-depth review of this
exciting platform.
32 TAMIYA VOLVO
FH16 GLOBETROTTER
750 6X4 TIMBER TRUCK
If you want a scale RC
truck, then look no further of your LiPo, as well as testing a servo and centralising the
output before installation in a chassis build as Ian Peckett puts
it to the test.
44 BEST IN BRITAIN
The 2020 1:12 Best in Britain event was hosted by the
Haywards Oval Track Racers and attracted some of the fastest
oval drivers in the country competing in National Hotrods,
2-Litre Saloon Stox, Classic Hotrods and 1300 Stock Cars.
58 MINI BATTLES
The success of the inaugural MTC National series would see
it return in 2020 despite the challenges of the pandemic with
EARCC kicking it off in Norwich. With the addition of a support
class to run alongside MTC rubber and MTC foam it was great
to see some new faces to challenge for the titles.
than Tamiya's 1:14 range that now includes the Volvo FH16
Globetrotter 750 6×4 Timber Truck. Highly accurate to the
full-size model and with many optional parts to add to the fun,
the Timber Truck looks the part in the forest or on the shelf…
48 HOBBYTECH CRX SURVIVAL RTR
HobbyTech is a new and exciting brand and their first model
to grace the pages of Racer is the CRX Survival crawler that
comes as an RTR complete with a two-speed gearbox and
shifting servo.