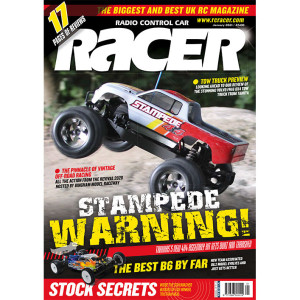 18 YOUNG ON TOP
Round two of the Mini Touring Car Nationals took place in
Essex at Southend and after the Rand brothers had cleaned
up at R1, it was the series organiser who managed to grab
a win as Mark Young won the foam class.
28 THE PRIVATEER
In what came as a total shock to the RC race scene, Olly
Jefferies announced his departure from Schumacher in
the outdoor off-season leaving him without a sponsored
drive for 2020. With the privateer option giving him carte
blanche for chassis choice, he purchased the latest Xray
REVIEWS
THE LATEST THRASH TESTS.
22 TRAXXAS STAMPEDE 4X4 KIT
The Stampede 4×4 has been a popular model for
Traxxas and we were lucky enough to get our
hands on an 'Assembly Kit' model that comes with
electrics and a clear body included. The build was a
pleasurable one and we followed this up with some
huge fun in the woods getting the maximum out of
the very capable truck.
36 TEAM ASSOCIATED B6.2 TEAM
Back in 2019, Spencer Rivkin won his second World
Championship for Team Associated in 2WD. At the time,
the team were officially running the B6.1 model but when
T4'20 and we show you his car in our detailed feature.
32 VEHICLE ON TOW
Ahead of a full review of the absolutely stunning Volvo
FH16 8×4 Tow Truck from Tamiya, we bring you a preview
of the 1:14-scale model, its amazing specification and
some of the parts and paints that will be required to get it
built to the highest standard.
42 STOCK CARS
We delved deep into the 1:10 off-road buggies belonging to
Schumacher engineer, Tristram Neal. 'Trish' competes in the
stock classes at the EOS and we get to show you all the cool
features and tweaks that he makes to his winning machines.