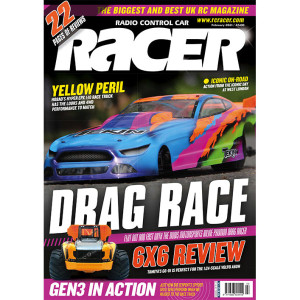 FEATURES
YOUR INSIGHT INTO THE BEST OF RC CARS,
PEOPLE AND TECHNIQUES.
24 GEN3 TRACK TEST
Following on from our build review of Serpent's Spyder
SRX-2 Gen3 buggy, it was decided to see how it performed
on the race track and a round of the Essex Carpet Clash
series. Not only would we get to see how the 2WD drove
and reacted o set-up changes, but it would be up against
a tough line-up of top racers from the South East. Head to
page 22 to see how we faired on the carpet.
52 AN ICONIC ON-ROAD DAY
John Weston and the Iconic RC team were able to get
one on-road event running in 2020 despite the impact
of coronavirus on the racing scene. West London Racing
Centre would be the host of a day of on-road vintage fun,
as well as a test for the pre-2000 open TC category at the
West London Iconic Day.
58 MTC DOUBLE-HEADER
The final two rounds of the MTC Nationals for 2020 would
be held at MB Raceway and see the champions in the foam
REVIEWS
THE LATEST THRASH TESTS.
14 TAMIYA G6-01 VOLVO A60H 6X6
Volvo is not only well-known as a manufacturer of passenger
cars, but they also offer a range of commercial vehicles like
lorries and this haulers for heavyweight work in mines and
quarries. Based on the G6-01 6×6 chassis, this model is classed
as 1:24-scale so you can see how big the full-size Volvo really
is. The Tamiya kit depicts the A60H with a polycarbonate cab
section capturing the hauler's distinctive lines and sturdy bed
moulded in ABS plastic, and of course there is a 6×6 drivetrain
below it to tackle the toughest of conditions.
32 HOBAO HYPER EPX
The 1:10 truck racing scene now has a new challenger in
the form of the Hyper EPX model from HoBao that will go up
against Tamiya's models on the race track. The brand hit the
race market in dominant fashion back in 2001 when the brand
launched the Hyper 7 1:18 off-road nitro buggy, but in recent
years have diversified and now have this electric racer based
around an alloy chassis, a belt-drive transmission and oil-filled
gear diffs for a super strong platform as Shaun
Taylor found out.
42 RUDIS MOTORSPORTS
PROMOD
Ever wondered what a top RC drag car
looks like? Then you are in for a treat
with the Inline Promod from Rudis
Motorsports. Along with the chassis
provided by Tony Rudis, we went with
Tekin, Trinity and Revtech equipment,
and topped it off with a stunning paint
scheme on the funny car body courtesy
of Kane Wood. Find out about the set-up
and tuning required to achieve the
high speeds the car is capable of in this
in-depth feature.