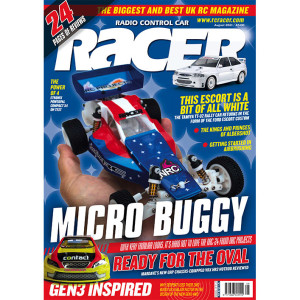 FEATURES
YOUR INSIGHT INTO THE BEST OF RC CARS,
PEOPLE AND TECHNIQUES.
22 TC ACTION FROM ALDERSHOT
Round one of the King of Clubs series, incorporating the
new Tamiya Junior-E class was hosted by the Aldershot
club. Tricky conditions meant the drivers really had to
work hard with even the very best making errors when
the track was slippery.
26 MULTI-CHARGER
The new Etronix PowerPal Compact X4 has the ability to
charge four batteries at the same time even with different
chemistries and demands yet at under  75 won't break
the bank… You can get all the details on the mid-range
unit starting on page 26.
REVIEWS
10 BRITISH BULLDOG
Mardave kits are synonymous with indoor racing that is fast
and furious, but also great fun. Many top racers get into the
hobby by racing these British-made machines, and the latest
Mardave model for review is their VRX HR3 with the GRP
chassis, as Peter Winton gets his hands on the budget-friendly
1:12-scale hotrod.
30 PROJECT 24
The NRC-24 has a very familiar look to it, with inspiration
coming from a World Championship-winning buggy made in the
USA. This 1:24-scale model though is made by NRC Projects in
the UK, and will be more at home zipping around your lounge
42 A GUIDE TO AIRBRUSHING
One of the skills you can learn as part of the RC hobby
is airbrushing and painting your own body. This can be
incredibly daunting though, with a lot to learn
about the art of airbrushing, and a massive
range of specialist equipment to
choose from. In the first of a series
of articles that we are putting
together with support from
The Airbrush Company, we
look at the basics including
a suitable airbrush and
compressor, as well as
some ideas to think
about going forward.
60 GEN3 GOES 4WD
We take a look at Tony
Evdoka's personal new
Serpent SRX-4 Gen3 that
draws heavily on their latest
2WD model, but with some
interesting and innovative
features included courtesy of lead
designer, Billy Easton.
or dining room than an outdoor track. John Weston was the
fortunate recipient of the NRC-24 and not only built the kit
up, but sourced the specific electrical components for it to be
driven.
48 CUSTOM COSWORTH
The Ford Escort Cosworth went through a number of different
looks as the US company took on the World Rally Championship
in the 90s, and this is Tamiya's take on the 1998 evolution of the
model based on the TT-02. With a more understated look and
single-colour box art, it still looks great!