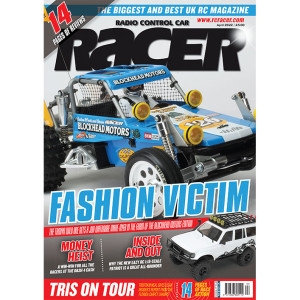 FEATURES
22 USA BOUND
We asked Schumacher race engineer, Tristram Neal, to
offer his insight into the goings on at the Florida Carpet
Championships hosted by Beachline RC, as he supported
his factory team drivers at the highly competitive indoor
buggy meeting.
30 SHOW ME THE MONEY
Whilst the RudeBits Dash 4 Cash saw a huge prize fund
and a massive raffle, the weekend was so much more
than a normal race meeting with a different format,
bump-ups, joker laps and much more including a great
atmosphere on- and off-track at TORCH.
REVIEWS
THE LATEST THRASH TESTS.
12 TAMIYA WILD ONE
BLOCKHEAD MOTORS
Japanese fashionista Jun Watanabe
adds his touch of flair to the Tamiya
Wild One with some Blockhead Motors
branding and as a result, the Wild
One 2WD off-road buggy has become
even more of a modern-day RC icon.
42 EAZY RC PATRIOT
CML Distribution is the agent
for the Eazy RC in the UK and
as a result, we are getting our
hands increasingly on more of
their product. The Patriot is the
latest 1:18-scale crawler from
the company for us to feature that
comes with a detailed body and
great scale looks, wrapped up in
a ready-to-run format for just over 100.
36 A JAPANESE ONE-OFF
This month's Iconic RC Vintage Column focuses upon one
of the more rare 4WD models from the 4WD 1977-86 class
and the Incident from RCL International. Paul Lomas is the
man with the greatest knowledge of the buggy so who
better to explain all there is to know about the Incident.
48 LOCAL HEROES SHINE
The locals had something to cheer about as David
Spashett and Ollie Payne battled it out in the LMP12
F1 class at the first two rounds of the BRCA National
Championships hosted by the Eastbourne club whilst
alongside them, the GT12 series was dominated by
Schumacher driver Daniel Robins.
58 CHAPMAN CLEANS UP IN LEEDS
MB Raceway would play host to the final round of the
2021 MTC Nationals and it was who ended the season in
style with two more victories and the championship in
both the Rubber and Foam classes.