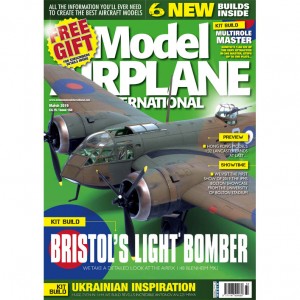 REVIEWS
P14 ONE, ONE, FOUR FOUR NEWS
All that's new for fans of this increasingly popular
scale.
P6 NEW RELEASES KITS
Which models will you be building over the
coming months?
P70 NEW RELEASES ACCESSORIES
What aftermarket parts will you be using to improve
your models?
P74 NEW RELEASES PAINTS
Workshop additions to help with your finishing…
FEATURES
P10 IT'S SHOWTIME!
Highlights from this year's IPMS Bolton Model Show
from the University Of Bolton Stadium.
P16 UKRAINIAN INSPIRATION
Huw Morgan builds the incredible Revell 1:144
Antonov AN-225 Mriya.
P24 ADVANCED LIGHT COMBAT AIRCRAFT
Roy Kinsella builds Miniwing's 1:144 Aero
L-159A ALCA.
P28 THE SPITFIRE THAT WENT TO SEA
Jamie Haggo gets the best from Freightdog's 1:72
Supermarine Seafire Ib.
P36 RODEN'S PERFECT PEACEMAKER
Greg Phillips tackles Roden's warlike Pilatus
PC-6 variant…
P44 BRISTOL'S LIGHT BOMBER
Nigel Poole takes a detailed look at the brand-new
Airfix 1:48 Blenheim Mk.I.
P54 KIT PREVIEW
We take a detailed look at the Hong Kong Models
1:32 Avro Lancaster.