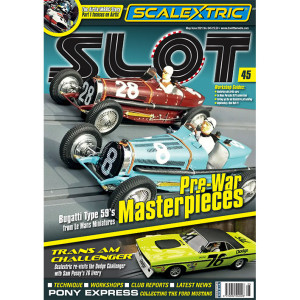 4 NEWS & NEW PRODUCTS
What is happening in the
Slot magazine world. News,
announcements, and interesting slot
gossip. Plus see the new cars that
are in the shops since the last issue
of Slot magazine. We look at brand
new models coming your way.
65 SLOT DIRECTORY
Find the retailers and specialist
services you need for all your slot
racing shopping.
66 PASSING SHOT
Will any future value be reduced if
you use your pride and joy?
10 Must 'ang on!
The story of Ford's pony car over the
last 55 plus years, through the eyes
of the slot car manufacturers
20 Taking a Bullitt
How one iconic Film car help to
launch a slot car company
24 The Airfix/MRRC story part 1
The Airfix years and we are not
talking Spitfires here!
32 Trans Am Beauty ?
We look at another version of Sam
Posey's Dodge from Scalextric
34 Workshop – Airfix Restore
We turn a box of trash into
something reasonably presentable
42 Pre-War Masterpieces
Words really cannot describe
the new Bugattis from Le Mans
Miniatures – so just look at the
pictures!
48 Workshop – 917 Porsche
Perfection?
Mark Hatton builds up his own Le
Mans Winner – the 1971 Martini
Porsche 917K
52 Past Forward – Cheetah
What is a Cheetah? It was Chevy's
Cobra, that's what
56 Workshop – Life's the Pits
Take some swapmeet pit boxes and
just a little time – see what can be
done
61 Workshop – Policar Red Bull!
Life giving you the Blues? We take
a plain blue F1 car and treat it to an
energy drink!