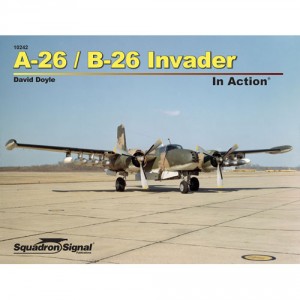 The Douglas A-26 Invader served the United States with distinction in various combat roles during World War II, Korea and Vietnam.
Originally created as an attack aircraft, with the designation A-26, the Invader was designed to replace the A-20 Havoc, North American B-25 Mitchell and the Martin B-26 Marauder for the U.S. Army Air Forces. However, production delays prevented the aircraft from reaching the field until June 1944.
With as many as 14 forward-firing .50 caliber machine guns as well as bombs and rockets, the Invader was well-suited for ground strikes when the Korean War broke out in 1951.
The Invader flew into combat and carried the markings of the U.S. Air Force as the re-designated B-26.
Later, the French used the Invader during their war in Vietnam. Shortly after the United States entered the conflict, Invaders returned to the sky over Vietnam in the hands of American as well as South Vietnamese crews.
In order to base the aircraft type in Thailand, which prohibited USAF bombers, the Invader was once more classified as an attack aircraft, and the A-26 designation returned.
This new title is profusely illustrated with more than 175 photos, 35 of which are in vintage colour, as well as two colour profile illustrations and 10 line drawings. 80 pages.
ISBN: 978-0-89747-818-2