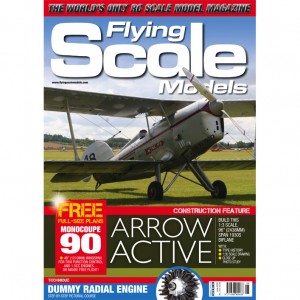 4 CONTACT
Just for starters
6 FULL SIZE FREE PLAN FEATURE
MONOCOUPE 90
48" wingspan, two-channel design by the late David Deadman
for engines around 1.5cc capacity…or maybe, free flight
8 MONOCOUPE 90 TYPE HISTORY
During the mid-1920s, the first of the Monocoupes re-defined
private flying from a wind-in-the-face flying garb activity, into a
pleasure as comfortable as a car journey. The Model 90
redefined Style.
12 MONOCOUPE 90 SCALE DRAWINGS
1:40 scale three-view drawings for the prototype, Model A and
Model AF
16 SPORT SCALE MASTERCLASS
PART 11: GORDON WHITEHEAD continues with Interplane and
cabane struts; bracing wires; wing fixings; wings and tailplanes
24 ARROW ACTION MK.II
A stunner of a one-off 1930s-era racing biplane, the full size of
which survives today in the custody of The Real Aeroplane
Company at Breighton. ALISTAIR SMITH modelled it to 1/3rd
scale, 96″ (2430mm) wingspan for Zenoah 62 power
34 ARROW ACTIVE SCALE DRAWING
1:30 scale three-views
36 ARROW ACTIVE TYPE HISTORY
Designed for a perceived military requirement that did not exist,
the designers did at least create a truly attractive little aircraft
40 arrow active mk.II in detail
A study of the aircraft in its present form after restoration to
flying condition by the present owner, the Real Aeroplane
Company based at Breighton Airfield, Selby, North Yorkshire
46 A DUMMY ARMSTRONG WHITWORTH
JAGUAR RADIAL ENGINE
Preliminary to the start of his next scale modelling project, an
Armstrong Whitworth Siskin III, GORDON WHITEHEAD,
produced the dummy engine that will go on the front
56 SCALE SOARING
Chris Williams presents his new 1:4 scale Slingsby Type 13 Petrel and also
makes a start on a 1:4.2 Scheibe Zugvogel IIa
60 metAL FOIL SURFACE FINISHES
FOR SCALE
An alternative to 'conventional' wood surface sealant methods
successfully applied by P. Wright.