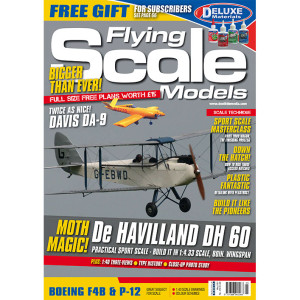 4 CONTACT
Just for starters
6 FULL SIZE FREE PLAN FEATURE
DAVIS DA-9
Dr Mike Hawkins (F.R.Ae S.) searched for
a scale subject that could be built to 1:4
scale and be small enough to satisfy air
transport luggage restrictions. At 38'1/2"
wingspan, the Davis DA-9 fi tted the bill
perfectly!
13 DAVIS DA-9 TYPE HISTORY
The Homebuilt aircraft movement
is strong in USA, where there is
unsuppassed diversity of designs fl own
successfully. This is the story of one.
22 SUBJECTS FOR SCALE
BOEING F4B & P-12
In an era of low military budgets, the
Boeing bipane 'Pursuits' epitomised a
quite literally colourful period of U.S.
military aviation.
28 F4B & P-12 SCALE
DRAWINGS
1:40 fine detail scale three views
30 BOEING P-12 & F4B
FLYING COLOURS
U.S.Army and Navy colour schemes
32 BUILD IT LINE THE PIONEERS
The late Denis Fairlie once suggested
that the best way to model 'Dawn-of-
Aviation ' aircraft was to replicate the
construction techniques of the originals.
here's how.
37 NOW YOU SEE THEM…
NOW YOU DON'T
Nothing worse on a scale model than
access hatches plainly visible. Simon
Delaney shows how to hide 'em.
42 CONSTRUCTION FEATURE
DE HAVIILAND DH 60 MOTH
Nothing nicer that a DH 'Moth'. David
Boddington's 80' wingspan 1:4.33 scale
model is a good choice for fl ying fun
50 DE HAVILLAND DH 60
TYPE HISTORY
The right aeroplane at the right time
that dominated Club and private
recreational fl ying in Britain from
inception its in 1925 unitil 1939.
58 DH 60 IN DETAIL
Close-up study of DH 60 Gipsy Moth
G-EBLV
62 BITS AND PIECES
John Carpenter recceomends
'Plastruct', much used by Model
Railroaders which he holds as an ideal
material for model aircraft detailing.