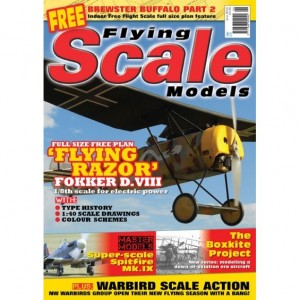 Issue 151
CONTACT
Scale model news
DAVE CHARLES' BRIAN TAYLOR SPITFIRE IX
Chip off the old block! The son of the first ever World R/C Scale Champion is also a scale modeller of note
THE BOXKITE PROJECT
Gary Sunderland commences a multi-part feature on the project that culminated in an R/C Scale Bristol Boxkite – but not before thorough study and research into those early, turn-of-the-century 'flying machines' that are, today, as much a challenge to scale modellers as the originals were, way back then!
SLEAP SPRING SPECTACULAR
NW Warbirds open their new flying season with a bang!
BREWSTERS FLYING BARREL
The final build of Richard Crossley's 1/18th scale rubber driven free flight
FULL SIZE FREE PLAN FEATURE – FOKKER D.VIII
A 1/8 scale electric powered model designed by Peter Rake with the prototype model built and described by Simon Uglow
FOKKER E.V & D.VIII TYPE HISTORY
Did the entirely avoidable problems initially experienced with this late WW1 fighter set back monoplane fighter development by more than a decade?
FOKKER D.VIII FLYING COLOURS
Warpaint for the Fokker E.V and D.III
FOKKER D.VIII SCALE DRAWING
1:40 fine-line three views
FOKKER D.VIII IN DETAIL
A close-up study of ythe Fokker E.V at the Fantasy of Flight museum in Florida. It is a replica, but an accuate one.
THE QUIET ZONE
An FSM reader's outstanding models
TECHNO SCALE
Mike Evatt enters cyberspace for more TechnoScale Topics