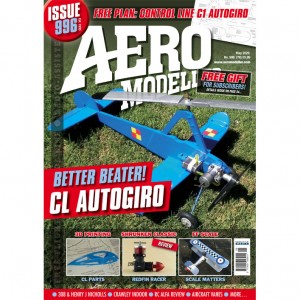 04 HEARD AT THE
HANGAR DOORS
EDITORIAL, NEWS AND VIEWS.
09 UP AND COMING
USUALLY A CALENDAR OF EVENTS…
10 OFF THE SHELF
NEW AND INNOVATIVE PRODUCTS.
12 POWER TRIP –
MINI-RACER
THE REDFIN 0.5CC VERSION OF THE CLASSIC ED
2.46 IS REVIEWED BY MARIS DISLERS.
18 3D PRINTING
MARTIN JACKSON EXPLAINS HOW HE USES 3D
PRINTING FOR CL MODEL COMPONENTS.
24 REVIEW – ALFA
SPORT
THE HIESBÖK RC ALFA SPORT FROM DENS
MODELS REVIEWED BY BEGINNER ANN FAIRLESS.
30 FREE PLAN –
CL AUTOGIRO C1
ALLAN VOYCE'S PROFILE FUSELAGE VERSION OF
C P G WHELDON'S 1950'S ORIGINAL.
38 SCALE MATTERS
NEW FF SCALE BUILDS FROM BILL DENNIS.
44 COVER 2 COVER
DICK TWOMEY'S AUTOBIOGRAPHY 'WING TIPS'.
46 HENRY J NICHOLLS
PART 2: STUART MARSDEN CONCLUDES THE LIFE
OF HJN WITH '308' AND MERCURY KITS.
56 WEATHER VANES
A TONIC FOR OUR TIMES! NIGEL EATON'S
NON-FLYING SCALE MODELS.
60 CRAWLEY INDOOR
DAVE BISHOP REPORTS FROM THE 45TH
CADMAC INDOOR EVENT FOR FF.
66 TAIL END CHARLIE
THE THOUGHTS OF CHRIS OTTEWELL.